3 … 2 … 1 … Happy New Year!
December 16 2015
No matter where you come from, you will agree with me that one of the most festive nights of the year is undoubtedly December 31! And this year is no exception, even less in the Outaouais region! For the occasion, several parties are organized in the region!
Welcome 2016 in your bathrobe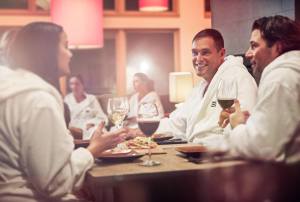 In my family, in general, for New Year's Eve, men wear ties and women, glitter and jewels. Completely the opposite of what the Nordik Spa-Nature has in store for you. Put on your swimsuit and bathrobe and treat yourself with a gourmet getaway in North America's largest spa, including the thermal experience, a four-course table d'hôte with wine pairings, a glass of sparkling wine at midnight and a relaxed and festive atmosphere with DJ.
The jackpot in 2016?
Who would say no to winning the jackpot? The best way to start the year with a few more dollars in your pocket is to celebrate New Year's Eve at the Casino and the Hilton Lac-Leamy. Get your ticket for Chocolate, a sinfully sweet New Year's Eve party at the Casino Theatre. The Hilton offers three packages including overnight stay, breakfast and dinner for two at the Arôme Seafood and grill restaurant at the renowned Le Baccara or a buffet dinner in the ballroom with a dance party with the band Fastlane. If you want to dance all night long, Aléa Club is the place to go. On December 31, DJ Domeno will be in the place. Finally, at Bar 7, Rebound and Raffy will be on show.
Dancing all night!
On December 31, the most common activity to do is to form a circle and dance, dance, dance and dance... until yours legs and feet can't handle it anymore.
Here's a list of the #Outaouaisfun dancing parties in the region:
DoubleTree by Hilton Gatineau-Ottawa: buffet dinner and a fun evening of dance.
Ramada Plaza Manoir du Casino et Risotto pâte et grillades: sumptuous table d'hôte menu, dancing to the music of Douglas Moyle performing in Frank Sinatra's style & interpreting «The Great American Song Book», accompanied by Nadine Banville in the character of Marilyn Monroe.
Fairmont Le Château Montebello: New Year's Eve Gala package including accommodation on December 31, a welcome cocktail, dinner and dance, the continental breakfast, New Year's day brunch and signature activities for the whole family.
SOIF wine bar: Four course menu with wine pairings and THE party, complete with wine, champagne, midnight snacks and lots of shots and bubbles with world renowned sommelier Veronique Rivest
Spruceholme, Pontiac conference center: four course menu, champagne at midnight and dance party with Simon Clarke and Paul Anthony, an Elvis Presley impersonator.
Brunch at the Canadian Museum of Nature
If you are able to get up the next morning or if your children are early birds that will be up and ready to start the New Year before you are, know that the Canadian Museum of Nature is organizing a New Year Day brunch.
No matter where and how you celebrate the arrival of 2016, it will be important to spend this moment with people you love! Let the New Year bring you everything you want and more importantly, much #Outaouaisfun.
If you are looking for other activities to do in our beautiful region during the Holiday Season, visit www.tourismeoutaouais.com.
PS: Tune in on January 5, as I will publish a blog post about all the #Outaouaisfun activities that you HAVE TO DO in 2016.