Local produce
A dream come true: Les Jardins d'Emmarocalles
July 9 2015
Mireille Albert and her husband Michel Tardif are living their dream so come visit their gardens
Mireille Albert glows with enthusiasm while strolling her beautiful nursery in Ripon, situated in Petite-Nation's verdant countryside. And who wouldn't? She and her partner Michel Tardif's dream of designing-creating a garden where they would grow perennials has come true.
On their website, the couple quotes musician-poet John Lennon: "A dream you dream alone is only a dream. A dream you dream together is a reality."
Quel beau rêve! Even better, the realization of their dream is not finite. Instead, the gardens represent a continually growing, blossoming representation of tranquility, beauty, and art.
It's an inspirational nursery because of the splendid garden beds grace what was a hayfield when Mireille and Marcel purchased the property in 2005. So, this dream has involved a great deal of long hours and very hard work, transforming a flat, grassed field into a series of welcoming pathways, wending their way through the flowers, shrubs, and naturalized pool.
Mireille said, "Michel dreamed of creating a garden where he could show a great number of perennials and share his passion with amateurs, gardeners and the public. When I met him in 2003, I also had a passion for plants and accompanied him in making his dream come true."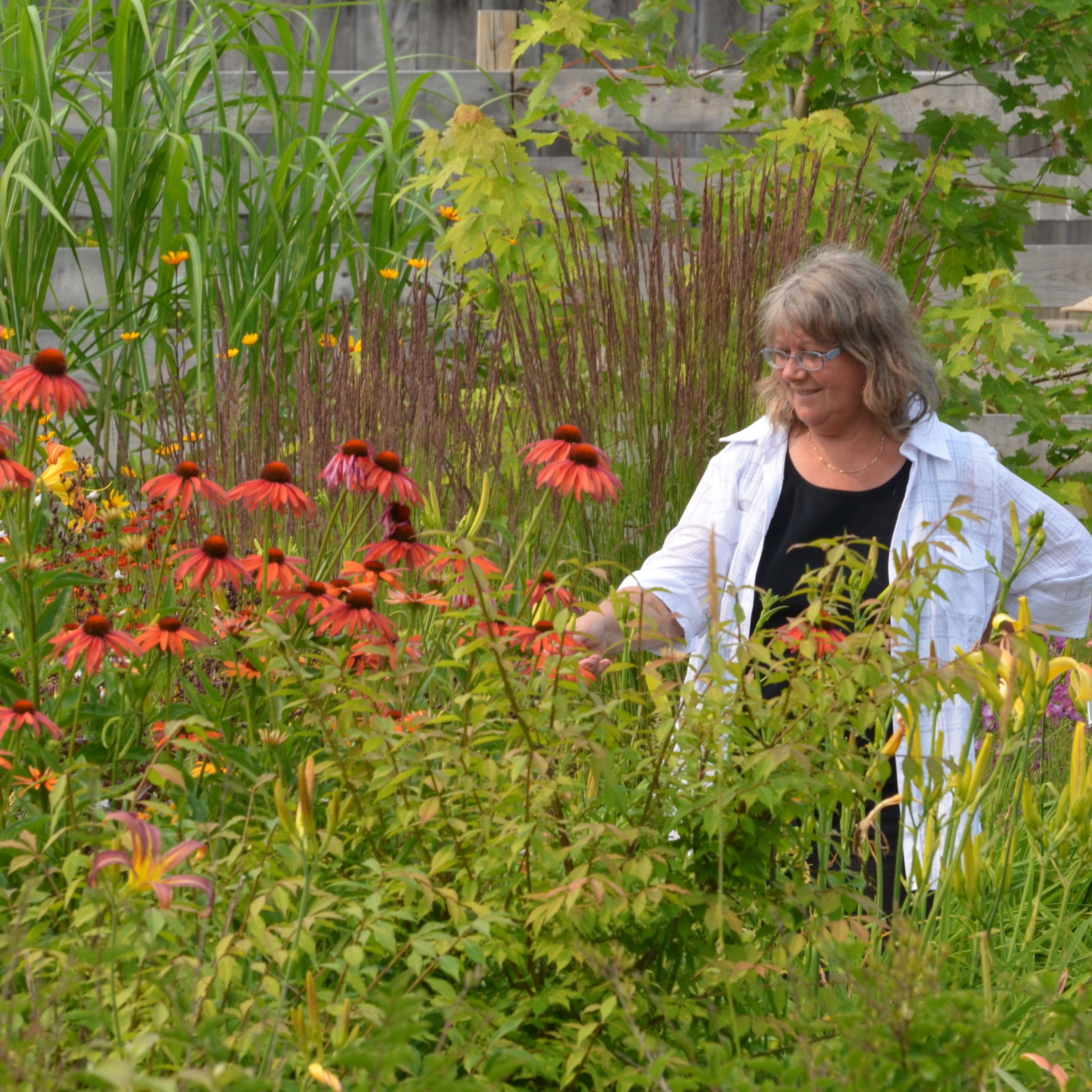 Here you'll find an extraordinary collection of plants, particularly daylilies – Hemerocallis in Latin. And, of course, this is what inspired the garden's name. Howe'ver, you'll note the spelling is different. Why, I asked Mireille?
She explained, "'Daylily' in French is Hémérocalle. My initials are M.A., and a former colleague used to call me Emma. When we created the gardens, with the daylily as our feature plant, the play on word was evident, thus the name."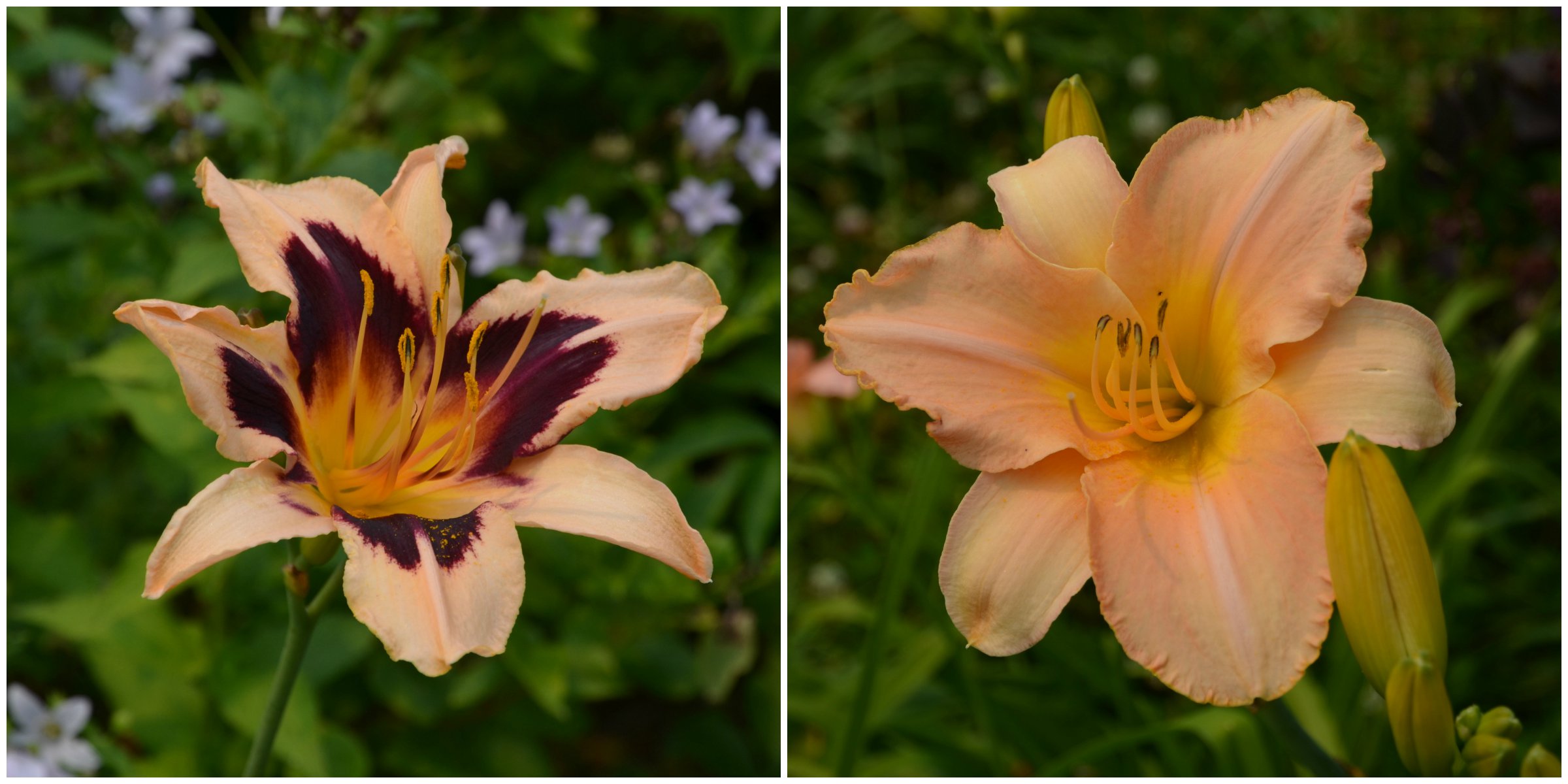 Frankly, we remain astonished at the varieties (called 'cultivars') of daylilies. Originally from Asia, now there are more than 80,000 registered daylilies. Mireille adds, "In 2014, we had 1,500 different cultivars in the gardens."
In fact, the garden is now an official American Hemerocallis Society Display Garden.
Which daylily cultivar does she like best? "This is like asking a mother which child she prefers. We find them all beautiful and we love them all! They come in all colours, yellow, orange, peach, pink, red, purple, white, except blue. Some have one colour, others are bitone (3 petals of one colour, 3 sepals of another colour), others have a halo – a different colour in the center)."
Not only will you find daylilies here. There are a multitude of varieties of such perennials as echinacea (cone flowers), delphinium, aqualegia (columbine), Achillea millefolium (yarrow) and others.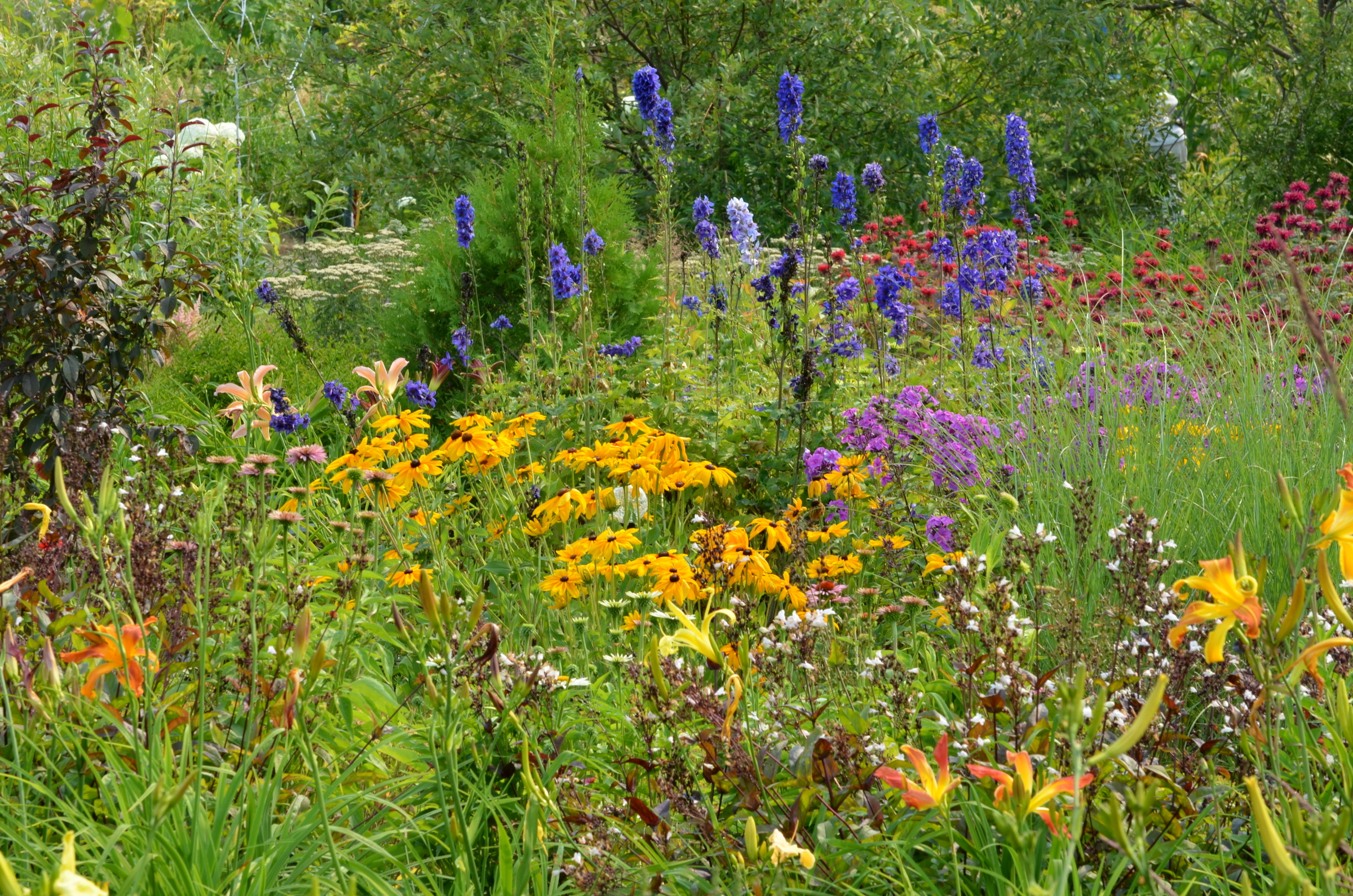 Says Mireille, "Echinaceas are generous and bloom for a long period from mid-July to the fall. They tolerate dryness (we don't water in our gardens) and look well in mixed flowerbeds with daylilies and other perennials. They now come in different colours and shades of white, pink, yellow, orange, red. A lot of new hybrids are double or pompon shaped."
Ahhh. Wandering here is a glorious pastime made all the more special because the couple have incorporated little chairs and benches so you can linger. Also? Look for inspirational phrases in the beds. All conspire to make us enjoy the flowers, picturesque views, pollinators and fragrances while we wander.
Before leaving, I asked where they like to play in the Outaouais. This generous, hard worker replied, "Our intense work starts in March and ends in November; the winter months are spent doing planning, ordering, and communication work. We celebrate birthdays and anniversaries at the local restaurant La Toquade, which we enjoy very much."
Before you visit, check their website for more information and lots of pictures. Then? Go, wander among the blossoms, discover more about daylilies at the couple's Daylily Interpretation Center, and don't be shy to ask Michel and Mireille's advice concerning which plants might work best in your garden's soil and light conditions. They'll be sure to have a good match for you.
Final tip? Ensure you have room in your car for a collection of newcomers!
Cover photo credit: Les Jardins d'Emmarocalles
OTHER ARTICLES THAT MIGHT INTEREST YOU