WHAT TO DO from April 27 to May 4│In the air and on the ground!
April 27 2017
Gatineau 2017
1717, Arthur-Fecteau Street, Aéroport de Gatineau, Gatineau (Québec), J8R 2Z9 Canada
Sunday April 30 will see the sky of Gatineau become a dancefloor for the mythical Canadian Forces Snowbirds and, for the first time in Canada since the 1988 Vancouver Expo, the celebrated Patrouille de France! Head to the Gatineau Airport to witness this one-of-a-kind event celebrating the strong ties that bind France and Canada. The show is free and starts at noon but get there as early as 9am because the parking lot (at a cost of 10$) will fill up quickly. You can also park for free on the neighbouring streets.
Family
497, Notre-Dame Street, Montebello (Québec), J0V 1L0 Canada
With an electric all-terrain vehicle (geobike) and an iPad, you will participate in an electrifying rally like no other. You will uncover the many clues hidden on Mount Wescott in Montebello, while discovering its natural beauty and fascinating history. Your mission is to solve as many riddles as possible to increase your chances of winning our prizes. Opens May 1st!
11, Notch Road, Chelsea (Québec), J9B 1G5 Canada
Discover the most spectacular mini-golf in the Gatineau-Ottawa region. The challenge and the beauty of the natural setting of the 18-hole course make a visit to our mini-golf an unforgettable experience. In addition, the first nine holes are accessible to persons with reduced mobility. You'll have a great time … every time!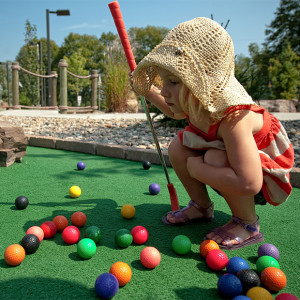 Of course, you can always go to www.outaouaistourism.com to not miss a thing! Have a good one!