A family getaway to the Four Points by Sheraton in Gatineau
Published on January 21 2016
In our family, 2016 got off to a very relaxed start. Over the holidays, we left the family nest and spent a night at the Four Points by Sheraton Gatineau-Ottawa to catch our breath and gear up for the new year. Lucky us! I'm sharing our experience with you, because even though we were only about 20 minutes from home, it felt like a real vacation.It's all about mind over matter! J
We left our house around 3 p.m. and made a pit stop at our friends the Nadons', who had agreed to take care of our beloved little dog Frippon while we were away. Special thanks to Eugénie and Léo, who looked after him like real pros—they treated him like a king! Little did I know that the Four Points by Sheraton is a "pet-friendly" chain, and we could have brought Frippon with us. Oh well—we'll know for next time! Useful information for people who, like me, hate to leave their companion animals behind. After all, they're family members too, right?
A warm and courteous welcome
When we arrived at the hotel, we were greetedwith impressive warmth and courtesy. Smiling hotel staff handed us our room card keys and some information to help us make the most of our stay. We had booked a family getaway package, so each of the kids got a treat bag, which set the tone for the rest of our visit. It was a small thing, but it made a big difference.
Our room was in seventh heaven—oops, I mean on the seventh floor. Two super-comfortable Four Points Comfort Bed™double beds awaited us—I could hardly wait to find out what it felt like to sleep on a gigantic marshmallow. (Flavie burst out laughing when I mentioned that!)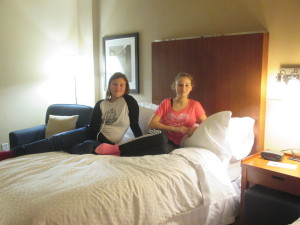 In the heart of downtown Gatineau
This four-star, 201‑room hotel is located on Laurier Street in downtown Gatineau, right across the street from the Canadian Museum of History (CMH), Canada's most visited museum. It's a couple of blocks from Jacques Cartier Park and the Alexandra Bridge linking Gatineau and Ottawa, and about 12 minutes' walk from Parliament Hill. It's a great choice for families planning to come to Winterlude this February: you can walk to the Snowflake Kingdom in 5 minutes! It's also a good option for groups of friends attending the Winter Beerfest, coming up January 29 and 30 at the CMH.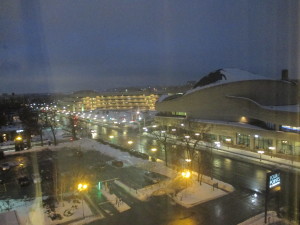 Speaking of the CMH, before supper we set aside some time to visit Vikings, a special exhibition at the museum. It's a must-see—my daughters absolutely loved it! Then it was back to our hotel room to rest and regroup before supper. Around 6 p.m. we headed down to the hotel restaurant, L'Ardoise, for a leisurely meal and some lively conversation to usher in the new year. Inspired by the "slow food" movement,the restaurant menu features family favourites like gourmet hamburgers, panini and salads. I ordered a vegetarian sauté that was simply divine; Mélodie had a pizza,Flaviechose a juicy steak, and my partner dug into a hamburger and poutine.It was a feast! Special thanks to our server, Arielle, for her attentive and professional service.
A little dip after supper
After thatfine meal, we slipped into our bathing suits and headed for the heated saltwater pool. We were pretty excited at the prospect of going for a swim in mid-January. Let's just say it had been awhile since our last dip. My two little fish were in their element! It was a great way to work off a few calories and spend quality time as a family. It occurred to me that if I'd been really organized, I would have brought my running shoes and gone for a Sunday-morning workout in the fitness room right next to the pool. Hold that thought …
Back in our room, we took a nice hot shower before putting on our PJs and piling onto the bed to watch the Canadiens hockey game—they lost, unfortunately. No matter: it was great to hang out together as a family, relaxed and stress-free. I could get used to this! Meanwhile, my two teenagers, glued to their iPods, really appreciated the hotel's free WiFi.
A delicious breakfast buffet
Sunday morning came all too soon, and we reluctantly got ready to leave. I made myself one last cup of coffee in the room as I finished packing, then I went downstairs to join the family for breakfast. Our package included a lavish breakfast buffet to start the day off right. The hardest part was deciding what to choose! There was something from everyone, from ravenous vacationers to health food fans. Pancakes, scrambled eggs, muffins, croissants, sausages, bacon, porridge, yogurt and fresh fruit … not to mention omelets made to order at your table. I'll bet your mouth is watering as you read this!
It was time to go, and to say goodbye to the friendly and energetic team at the Four Points by Sheraton Gatineau–Ottawa. Special thanks to Johanne for her warm welcome, to Derek, Martin and Arielle for their superb service in the restaurant, and to Jason for booking us such a fabulous family getaway. If you're looking for a convenient, comfortable, accessible place to stay in Gatineau, may I suggest the Four Points by Sheraton Gatineau–Ottawa? You won't be disappointed! And while we're on the subject, I strongly recommend that you and your family planthe occasional mini-holiday. It will do you a world of good to get out of the house for a few hours and spend time together, away from the insistent call of the housework, the laundry, and hockey practices!
For more ideas and suggestions, check out www.outaouaistourism.com and follow us on Facebook, Twitter, and Instagram with #outaouaisfun!