A holiday in a family paradise … and in the land of the deer!
Published on February 16 2016
Because you can never spend enough quality time with family, because I love getting away for a day or two with my partner and baby, because I love playing outdoors, because I have amazing parents and in-laws, and for a bunch of other reasons, we decided to book a two-day stay at the Centre touristique du Lac-Simon—which we dubbed "the family paradise," and which is also known in the Outaouais as "the land of the deer"!
It was our first time at this family-friendly complex, and we're already excited at the prospect of going back next summer to enjoy a completely different experience. We all fell in love with this beautiful spot, a real holiday resort with lots of fun things to do for all ages.
This is the life!
From the moment we arrived, we were delighted with the centre, with its charming little cottages all lined up along the lakeshore. We were in cottage #9: not too big, not too small, just perfect for five adults and Thomas in his playpen. We were especially impressed with our spectacular view of the lake and the setting sun. As the women unpacked the suitcases and put away the groceries, the men took charge of the wood stove, and soon we were enjoying the wonderful cottage aroma of wood smoke. We sat down to a simple lunch of raw vegetables, macaroni salad and ham sandwiches before heading outside to play. What's great is that the cottage is fully equipped: all we had to bring were our bed linens and bath towels, everything else was provided.
A gigantic playground
As soon as we'd finished lunch, we got dressed to go outside. Even Thomas opted for the cottage look, sporting a wool sweater knitted by his great-grandmother. It was a perfect day for a long walk, and we were out for at least two hours without ever retracing our steps. Our walk took us to the campgrounds and the summer cottages, along the beach (snow-covered at this time of year), through the park with its slides and play structures, and across the snowmobile trail. A grand day out! The scenery was truly spectacular, the temperature was perfect, and Thomas was sleeping peacefully in his stroller, so we just kept walking.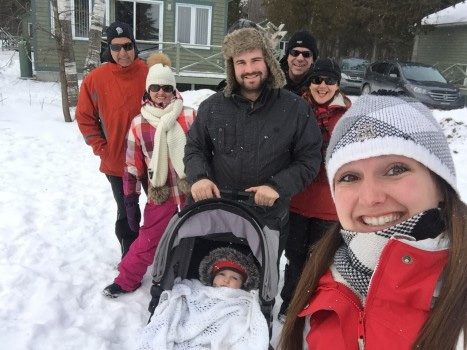 When the sun started to get lower in the sky, we headed back to our cottage. We'd been told we could expect a visit from the deer that live in the surrounding woods, and we didn't want to miss that!
This is the life, part 2!
| | | |
| --- | --- | --- |
| | | At 4 p.m., back at the cottage, we stoked the fire, opened a bottle of wine, and pulled out the playing cards. That's not something we often do at home, which made it all the more fun! |
And that's when things took a magical turn, as a dozen deer showed up at our door. Some were timid, others bolder, but all of them were munching away near the deck. It was a rare opportunity to admire them up close. Even Thomas was thrilled, though he couldn't resist banging on the window (something he does at home to "talk" to our dog out in the yard)
| | | |
| --- | --- | --- |
| | | All five of us adults were completely entranced by these beautiful animals, and we put our card game aside. Truth be told, we were so captivated by the deer that we couldn't remember whose turn it was! Around 6 p.m. we started getting supper ready. We'd planned a raclette. Everyone got busy cutting up the ingredients, and before we knew it we were absolutely stuffed. It seems it's impossible not to overindulge when raclette is on the menu … but it's sooo good! After supper we did the dishes, got into our PJs, put Thomas to bed, and wham! We were all exhausted! Our active day in the great outdoors hit us like a truck. Our parents left to drive back to Gatineau (they had to work the next day), and we headed for our room and conked out. |
More visitors!

At 7:30 the next morning, Thomas started chattering away in his playpen. I went to check on him, and what should I see out by the deck but the same little herd of deer that had visited us the previous evening. What a wonderful way to start the day! They lingered near the cottage for at least half an hour.

Breakfast, packing, loading up the car, and already it was time to leave. Our stay was all too brief, but it was such a treat to spend time with our parents, young Thomas's grandparents. We would enthusiastically recommend the Centre touristique du Lac-Simon as an ideal destination for families of all sizes, any time of year. Stay tuned, because we'll definitely be going back this summer!