ALÉA: Outaouais' New Nightclub
Published on November 26 2014
I love to dance. I'm not particularly good at it but I really do like to dance. Dancing is for me a way to relax and unwind from my everyday routine. It's also about living in the moment.
In spring of 2012, when the Casino du Lac-Leamy announced renovations of almost $50M, including a new nightclub, I was quite excited. In Gatineau, we're lucky to have many microbreweries, cafés, pubs and bars where I like to grab a drink with friends, something to eat or attend a show in an intimate setting. But when it comes to dancing (especially on electronic music), I often find myself crossing the river to Ottawa or again, planning those kind of nights when I'm visiting friends in Montreal or Toronto. But not anymore!!!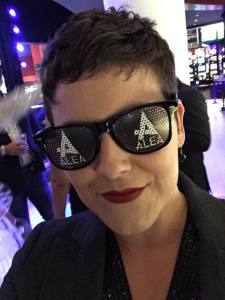 The night before Halloween, thanks to my work, I was lucky enough to be part of the very first guests to inaugurate the brand-new dance floor (yes, it's me with the ALÉA glasses) to the rhythms of duo Paris x Simo. WOW. That short word well summarizes my first night out (with many more to come) at Club ALÉA. To be honest, I wasn't sure what to expect and I was blown away!
As I entered the Club for the very first time, the chic and trendy decor struck me. The ceiling is incredibly high and the 13-meter wide LED wall is quite impressive and ideal for VJs! The multimedia and intimate space can welcome up to 219 guests. As for the DJ Booth, it's neighboring the dance floor… The proximity with the DJ is incredible (I'm a bit jealous of those who were dancing really close to Bob Sinclair on November 15). The nightclub is equipped with state-of-the-art technology to highlight local and international DJs. And drinks are smoking and amazing! See below "the making of" video that I shot on Instagram (@outaouais, @joselafleur, #outaouaisfun).
Club ALÉA is definitely a must for those who are looking for good a night out and dancing in Gatineau! That being said, you need to be a fanatic, or at least be open to electronic music. Located in the Casino du Lac-Leamy's central hub (right above BAR 7), the nightclub is open Friday and Saturday nights from 10 pm to 2 am. For programming information or to purchase tickets, visit Club ALÉA's Web site.
PS: If you have the means or if you're celebrating a special occasion, VIP sections are available!
And for other #outaouaisfun ideas in Gatineau and in the Outaouais region, don't hesitate to navigate our Web site: www.outaouaistourism.com