Amnesia Rockfest: the other Montebello
Published on April 23 2015
A small village of about 900 souls. A rock festival that attracts around 200 000 people from all over the globe. Incompatible, you say? Nope, because it will happen for the 10th time in Montebello with the Amnesia Rockfest, from June 18 to 21.
For a visitor, it's crazy. Decibels, sun, and human contact (possibly quite physical, depending on your proximity with the stage) make the Rockfest a not-to-be-missed rendez-vous for heavy music afficionado. Certain visitors have even achieved legendary status, like Le gars en bobettes (Underwear guy), Yessir Miller, and the guy that was crowdsurfing in his wheelchair. But what about the residents? Do they point their indexes and pinkies to the sky like the rest of us?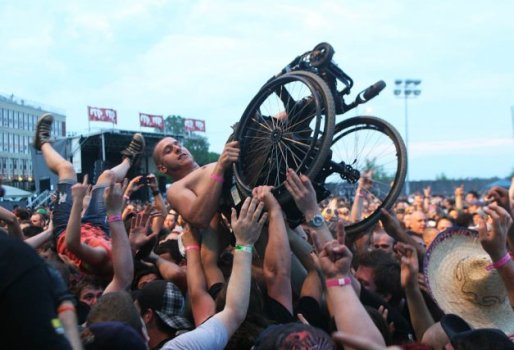 Here's what my colleague Natacha Carrières, who manages the Montebello Tourist Information office, has to say about it.
André : Natacha, can you tell us about the atmosphere in the village in the days leading to the Rockfest? Is there energy in the air?
Natacha : There's definitely a party mood! Many festival goers get here several days before the shows start. It's fun! There's a lot going on and eveything goes well.
A : Have you noticed any différences from year to year?
N : Most definitely! It's changed a lot in the last four years. It started out modestly but now, the visitors swarm the village!
Let's not forget that the first few years of the Rockfest drew mostly Canadian acts such as Grim Skunk and Rockfest founder Alex Martel's Deadly Apples and a few hundred people would gather in Montebello to watch them. Let's just say that the event's notoriety grew with metalheads and punks from all over the world as well as with legends like Korn, Marilyn Manson, the Offspring, Rancid, and this year's headliners System of a Down. With visitors from Australia, Japan, Europe and all of the Americas gathering in a small town in the Outaouais, it's a clear sign that the event has sex-appeal!
A : What do you like the most about the Rockfest?
N : The party atmosphere that's everywhere. People are nice and nothing bad happens. People are here to make friends and bond, not to cause trouble.
A : Do you have any anecdotes to tell us about the Rockfest?
N : I see people brushing their teeth over manholes all the time. A group of punks asked us to microwave gelatin to make spikes in their hair and others changed their clothes directly in our information office! It's colourful to say the least!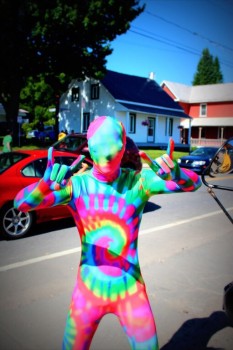 A : What does the village look like during the festival?
N : Nothing like the usual! The village no longer belongs to the résidents but to the festival goers! There are people everywhere, tents set up on every property because the residents host visitors every year. Even the grounds in front of the Church is unrecognizable!
Specially when Rancid's Tim Armstrong does a surprise performance in front of said church...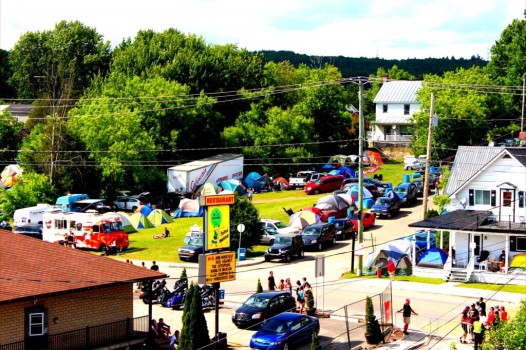 A : And you? How do you live the Rockfest at work? And how about outside of work? 
N : At work it's a lot of fun! Visitors are nice and our job is to help them; we give them the program, we help them find a campsite because everything in towen gets booked months before. It's refreshing! I also people at my place. They set up their tent on my property and I take care of my guests. Howe'ver, when it ends, let's just say that we're happy things go back to normal! Hahaha! What's tough though is that during the festival we're pretty much stuck in town; everything road is pretty much blocked!
Basically, Montebello becomes its own planet for a week-end. A planet that thrives on electric guitars and, starting this year, humour! Indeed, the one and only Tom Green, Jackass' Steve-O, and Québec's own Mike Ward will be there to get laughs out of the crowd between two head-banging sessions.
So, fans of metal, punk, and hard rock, Montebello, its residents and businesses are waiting for you! And if you need anything, Natacha and her super team are there for you!
Happy 10th birthday, Rockfest! And thank you for treating us with a once again amazing line-up!
P.S. By the way, if you haven't bought your tickets, hurry up and get them here!