An adrenaline rush like no other at Great Canadian Bungee!
Published on May 7 2015
And another item checked off my Bucket List!
Under my 5' 2'' of femininity lies a desire of transcendence and necessity of an adrenaline rush, which at first glance seems rather surprising. Feeling the butterflies in my stomach, my legs getting numb and my heart beating at a hundred miles an hour, it makes my day! So no wonder that when the opportunity to bungee jump came up, I did not hesitate for two seconds and said ''YES I DO'' (I think I wouldn't even scream it at my wedding)!
But wait a sec, I didn't jump in an ordinary setting? I went to the Great Canadian Bungee (GCB): the highest bungee jump in North America. Located in Wakefield (20 minutes from Ottawa - Gatineau), the platform is named Goliath for a good reason, as it sits at 200 ft. high in the middle of a limestone quarry! Just the beauty of the place is worth a visit. Imagine, an amphitheater of solid limestone, surrounding a 160 ft. deep aqua-blue, spring-fed lagoon, larger than 3 football fields. A true regional paradise.
Thank God my colleague joined me on this adventure for moral support!
The team reassured us right upon our arrival (thanks guys!). And what a dynamic group! Thinking about it, it must be quite comical to meet people on a daily basis who are about to experience this kind of thrill, and for the majority, it's the first time they experience anything like it!
Although I was motivated and mentally prepared for what was coming my way – yup, I even blasted the music in my car on my way to GCB – my heart stopped beating when I saw this: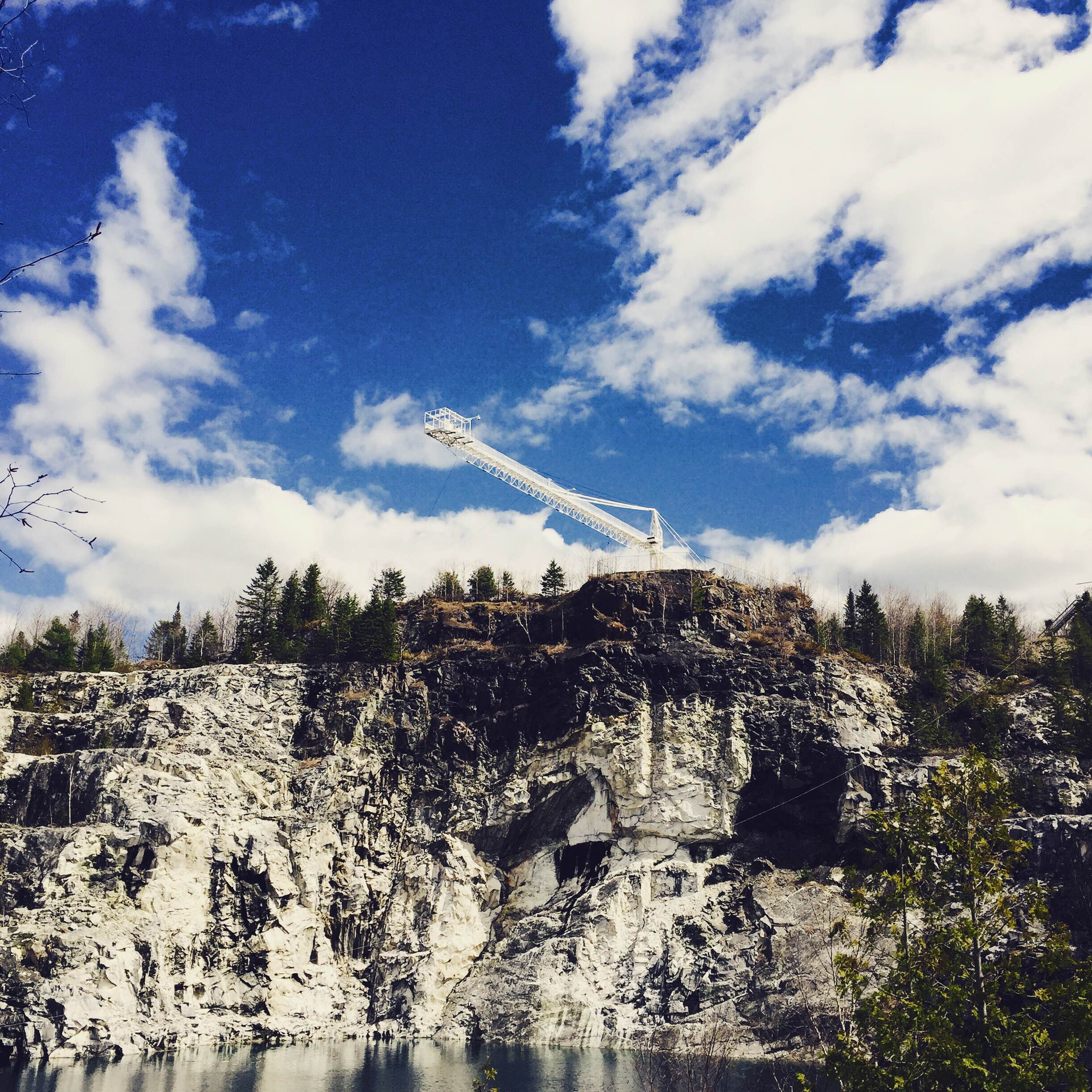 To get into the swing of things, we first slid down the RipRide zipline. Helloooo adrenaline rush! The RipRide consists of a cable slide that crosses the lake from one end to the other. The 1,015 feet cable starts at a spine-chilling 200 feet and propels you above the crystal clear waters. The thrill becomes more intense as you reach a top speed of 80-100 km/hr and are now 150 ft. above the water. It's not complicated, you literally feel like Superman!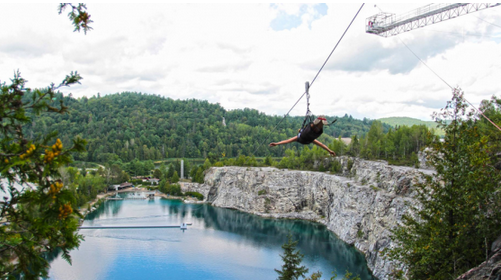 And since a picture (in this case a video) is worth a thousand words, here's my colleague Gen in action.
https://www.youtube.com/watch?v=tHvC8dHUoTA
Then I got a surge of energy to go bungee jumping! I walked up the hill to get to the tower as quickly as possible. And that's when I realized it was real. I was going to jump into the void, with a breathtaking view of the quarry. I climbed the stairs of the tower one by one, took some pictures, and I patiently waited my turn, which in my mind took forever to come. Let's agree here, the waiting was just an impression, since I was as impatient as a kid on Christmas Eve.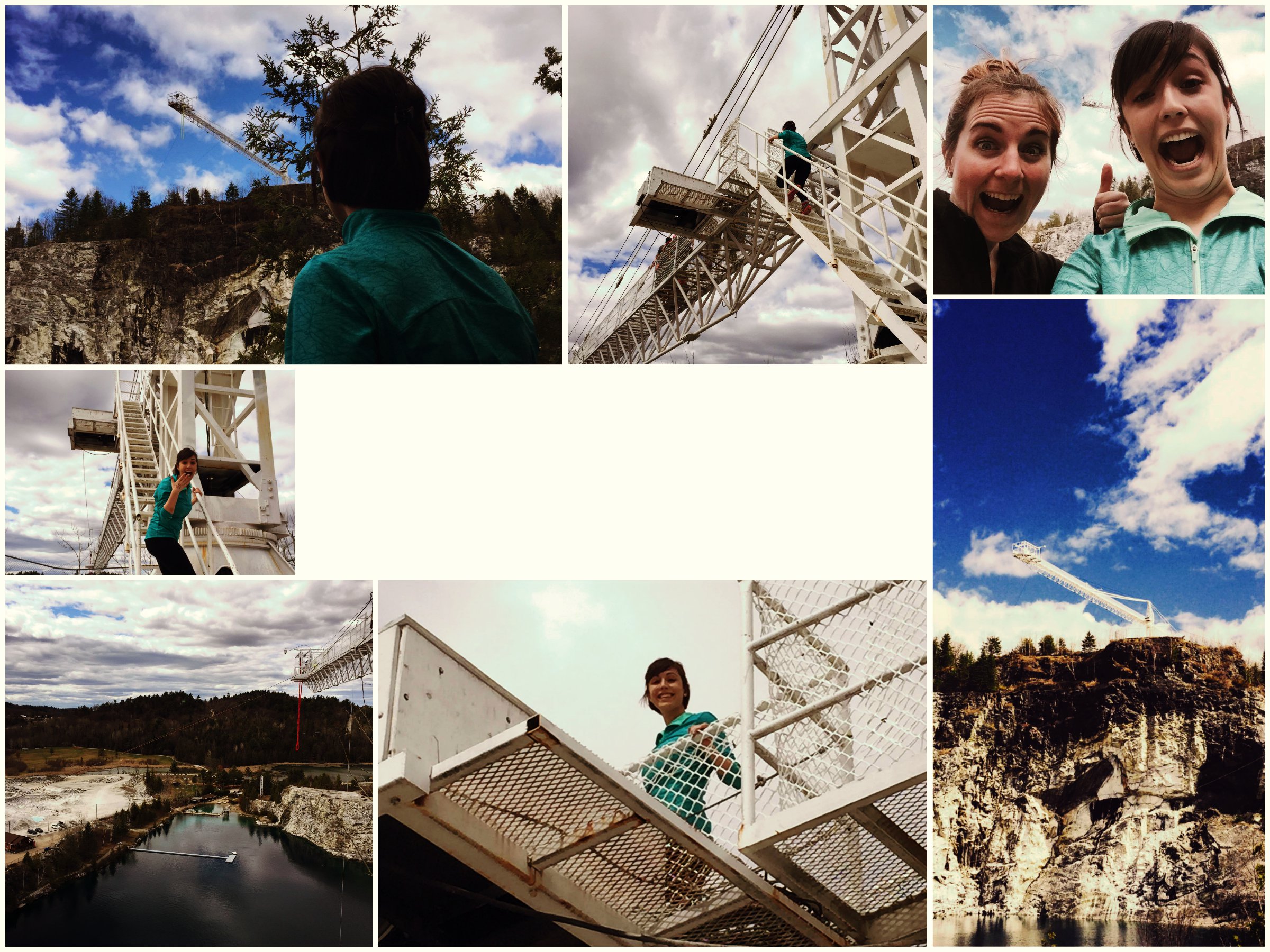 ''Next jumper!'' shouts the GCB team. Woohoo!! It's me! The closer I get to the end of the platform, the more nervous I become. What a strange feeling: on one hand, I'm very excited and on the other so reluctant. I put on the equipment while the team made ​​a few jokes to put me at ease. They also checked it, not once but twice, for safety purposes.
Then I get in position… the small door closes behind me… and the first countdown begins…5… 4… 3… 2… 1… and the second one… Yes, the brave girl signing out lout in her car wasn't so brave anymore.
As I'm writing this, the same excitement I felt that day is coming back to me, as much as fear that took over me when my toes were literally in the void on top of the platform.
Finally, the third countdown began. O -M- G! Why didn't I jump the first time? This is awesome! I have never felt such an adrenaline rush before (even while skydiving). Not only do you jump from a platform located 200 ft. from the water, the first rebound is equivalent to jumping at 160 ft. (which is higher than any bungee site in Canada and the United States States). It's like a 2 for 1!
Suddenly I felt liberated. I felt freed from all my daily worries, my fears and my stress. Wow, I just bungee jumped, in a breathtaking location, in MY region.
Before jumping, I was offered to touch the water, or even to dive in it as part of the jump; but because of the particularly chilly wind, I passed. Howe'ver, I would do it in the summer. It's like extra-challenging.
Bonus: I left with the video of my jump on a USB key, to which I added music to camouflage my typical chick screams.
https://www.youtube.com/watch?v=ezeS6CVRHjQ
I now challenge you to bungee jump or do the RipRide zipline at Great Canadian Bungee! And if it can give you a little kick in the bumbum...  I dare you to ;).
A big thank you to the GCB team for letting me live this incredible experience. You rock and you undoubtedly make this adventure extra special!
For other extreme adventures in Outaouais, visit our website. And follow us on Twitter, Facebook and Instagram … remember our hashtag, #outaouaisfun.