Brunch in the Outaouais Region!
Published on April 2 2015
Breakfast is one of my favorite meals. I enjoy it in the comfort of my home or out with family & friends. And especially on a sunny Sunday morning. Along with our Facebook fans, I've gathered 10 recommendations of unique places where to brunch… "Only in Outaouais". And because I feel less guilty when I brunch and then, head out for an activity of some sort, I've decided to list as well some of the things to do nearby the restaurants.
EDGAR
This small neighborhood bistro calls all Outaouais' brunch lovers! Its renowned cuisine, decadent brunches on Sunday mornings and take-out meals throughout the week make this place one of the foodie addresses you need to know about. Good news: the Capital pathway network is close by! Why not cycle over?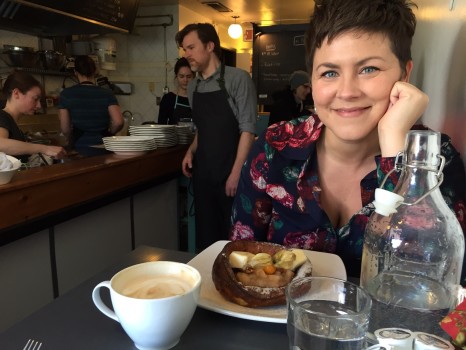 L'HUILE D'OLIVE
Cathedral ceilings, modern decor with red highlights and a terrace overlooking the majestic Thirty-One-Mile Lake are some of the features of L'Huile d'Olive in the Gatineau Valley. "À la carte" or buffet-style brunch? It's up to you. And while you're in that part of the Outaouais, why not try rafting on the Gatineau River with Bonnet Rouge!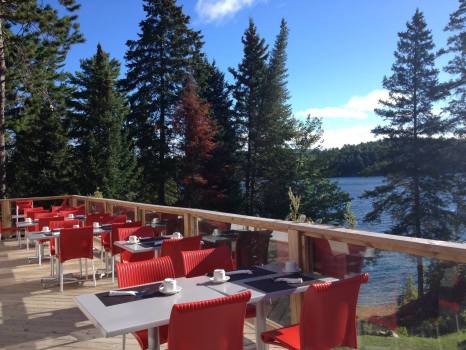 L'ORÉE DU BOIS
Located at the footsteps of Gatineau Park, this restaurant invites all foodies to thematic brunches throughout the year. According to the number of guests, the different courses of food are set in the middle of the table and people are invited to share (I really like that familiar twist). Not to be missed: the Sugar Shack menu available until the end of April. And no need to say that Gatineau Park is your "after brunch" place for some outdoor adventures.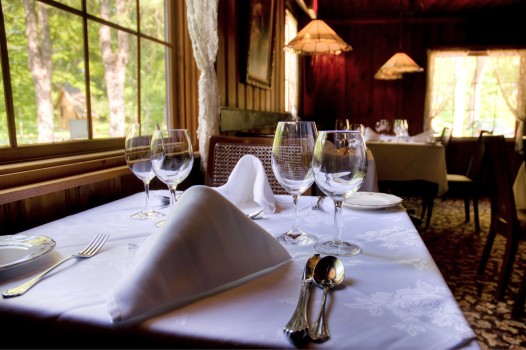 BISTRO COQLICORNE
Did you know that this place's name is a nod to visual artist Jean Dallaire (1916-65), a native of Hull, who in 1952 imagined a mythical beast, the Coq licorne that was part rooster and part unicorn? Located in Old Hull, this bistro offers two or three gourmet breakfasts made of local produce (Saturday mornings only). As for "art", you can continue your journey at Galerie Montcalm to check out the current exhibition.
LA TOQUADE
If you're in St-André-Avellin, make sure to stop by La Toquade. This family-owned restaurant is renowned for its warm service in a cozy ambiance, but most of all, its homemade cuisine and excellent waffles! While you're visiting Petite-Nation La Lièvre, why don't you stop over at Ranch El Pequeno or Cabriole Farm for some horseback riding in the countryside?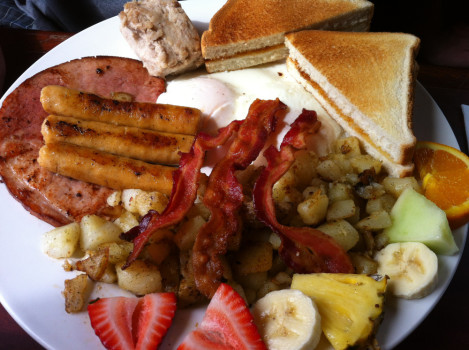 LE RITUEL
Nestled in a golf course, this restaurant offers a stunning fenestration in a modern decor and a passionate cuisine, without any pretention. Not to be missed: the thematic and seasonal brunches offered throughout the year. And why not combine your meal with an 18-hole at Le Sorcier Golf Course?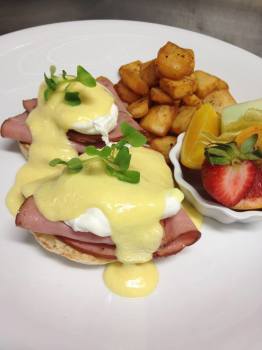 LE SAINT-ÉLOI CAFÉ BISTRO

Well hidden by the trees of Leamy Lake Park, this cozy little place offers a healthy cuisine (no fried items on the menu) in a laid-back ambiance. We like this place for its homemade crepes and its small shaded terrace overlooking the water. After breakfast, stretch your legs while walking around the lake or, in the summertime, bring your bathing suit for a swim!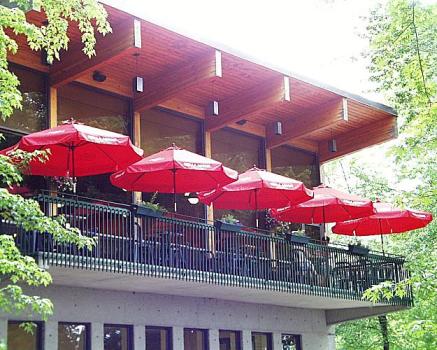 THE CLASSICS
It's almost impossible to write about brunches in the Outaouais region and not mention our 3 renowned ones: Aux Chantignoles (Fairmont Le Château Montebello) combined with a curling match or a walk with Monte, the canine ambassador, along the Ottawa River, Muse (Moulin Wakefield Mill Hotel & Spa) followed by a stroll and a bit of shopping in the one-and-only village of Wakefield and Arôme Seafood and Grill (Hilton Lac-Leamy) matched up with a go-kart race at Top Karting. Again, many options here!
As you probably already know, it's pretty hard to list in a single blog every restaurant where brunch is available. For other "foodie destinations", I strongly suggest you visit the Restaurants section of Outaouais Tourism's Web site and read my colleague's, Karo, blog post on delicious sugar shacks… Bon appétit!
And follow us on Twitter, Facebook and Instagram … remember our hashtag, #outaouaisfun. The 2015 "People's Choice Award" contest is now officially open, with more than $6,000 in prizes to be won! From now to April 10, VOTE for your favourite regional tourist attractions!