Bryson Lake Lodge: when do we go back?
Published on June 13 2016
I'm no fisherman. Aside from a bass I caught when I was five or six (well, I hooked it, but I believe it was one of the adults in the boat who reeled it in) and a few sunfish I snagged off the end of the dock at my uncle and aunt's cottage, I'd never been on a classic "fishing trip" with my buddies.
So when I was asked to write about Bryson Lake Lodge, I decided that if my report were to have any cred at all, I had to write from experience. A few emails and phone calls later, I'd set aside May 17 to 19 and I was off to the wilds of the Pontiac with my friend Christian, at the height of trout season, for my first-ever stay at an outfitters!
The road leading to the lodge was a harsh reminder that we were leaving civilization far behind. Denis Lebrun, the owner of the lodge since 1993, later told us that the season had barely started and that municipal road maintenance would be done in the next few days, in time for summer.
Approaching the lodge, we passed through the impressive entrance archway … and were instantly smitten! We'd be spending the next couple of days in a little corner of paradise. We met Denis at the main lodge, and right away we knew we were in good hands. Passionate about fishing and hunting, he has immense respect for nature and is always looking out for the well-being of his guests. He showed us around the lodge. The great room has sofas, pool and ping-pong tables, board games, and a big-screen TV for guests who absolutely have to watch an important sports match, for instance. This is the only place on the site with Internet access (and a courtesy computer) and that was A-OK with me—we'd be forced to disconnect! The room has a stunning view of Bryson Lake and the docks, where the rowboats are tied up, patiently awaiting the next adventure. On the other side of the building are the reception area and a small shop that stocks all the requirements for a fishing expedition. The walls are hung with mounted specimens of fish and game, all caught here. Denis sold me my very first fishing permit and handed over the keys to our suite, which was in a small inn close to the main lodge. We transferred our gear to the room and rejoined Denis for a quick tour of the grounds.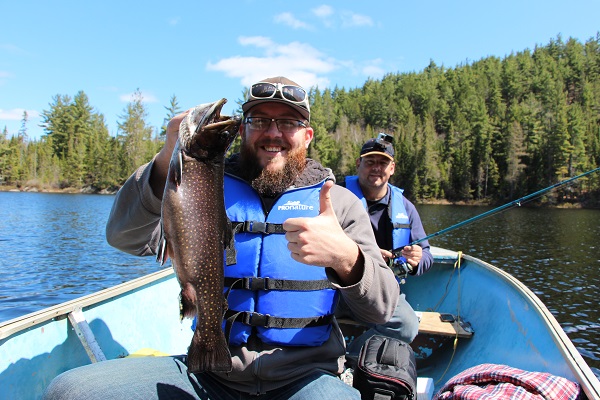 The property covers 140 square kilometres on beautiful Bryson Lake. It encompasses a few smaller lakes (to which the lodge has exclusive rights) and the scenery is breathtaking. We weren't the only ones going down the road: we saw lots of fresh moose tracks as we were driving. There are 15 cottages on the property (five near the main lodge and the rest a little farther away), ideal for a family getaway in the great outdoors. And the rates are very attractive! It being so early in the season, only a few of the cottages were occupied: besides Christian and me, there were a group of Americans and a couple of bear hunters from Gatineau. Talk about peaceful. Even in high season, the cottages offer privacy and an opportunity to immerse yourself in nature.
The next morning, Denis took us to Colin Lake, which is home to speckled trout (also called brook trout). What a spectacular little lake! Apart from a loon, a few otters and a turkey vulture flying overhead, we were the only ones there … until the fish started biting! But the beauty of fishing is that there's no rush. We chatted, we laughed, we admired the scenery between casts, and Denis told us about his outfitting business and fishing in general. You can see his passion in his eyes and hear it in his voice! Between the three of us, we caught eight trout almost effortlessly, and as we motored back to the dock I hooked a nice fat 18-incher. Not bad for my very first "serious" fishing expedition!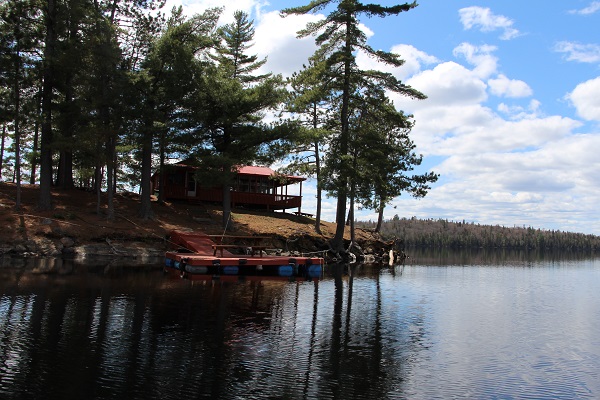 That afternoon we tackled Bryson Lake, or more accurately, its lake trout. Pike and walleye season wasn't open yet, so we weren't able to go for the Bryson Lake Grand Slam. "The what??" you may ask. The Grand Slam, Denis explained, is when someone manages to catch all four major fish species (lake trout, speckled trout, walleye and pike) in a single trip. It's not as easy as it may sound, because the four species require different tackle and inhabit different areas. Very few fishers have achieved the Grand Slam, which comes with significant bragging rights!
As we motored around the lake, Denis told us about hunting on the territory (each hunting group is assigned a specific area). We stopped at various cottages, cut the motor and dropped our lines into the water. But spring was late this year, the water was still cold and it was hard to figure out where the trout were hiding. In the end we didn't catch a thing all afternoon, but we had a great time anyway. Christian and I fried up our morning's catch for supper!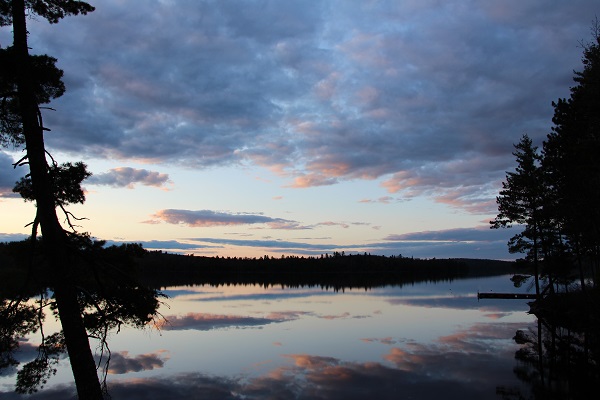 The next morning, we reluctantly got ready to leave. As we ate breakfast in our suite, there was a flurry of activity down by the lake. One of our fellow guests had shot a bear the day before! I'm no hunter either, but I have to admit it was an impressive catch.
As we said our goodbyes, Christian and I agreed on several points. Denis is a superb host, and the place is just beautiful. For my friends with young families, Bryson Lake Lodge would be a great place to teach the kids to fish and have fun in the great outdoors!
As for me, it's not a question of whether I'll go back, but when! I've definitely caught the bug, and I have loads of buddies who'll be keen to go for the Grand Slam. So it's not goodbye, it's au revoir!