Discover the wild side of the Outaouais region with these 5 activities!
Published on May 12 2014
Going to visit animals gets a thumbs-up from young and old alike! Several tourist destinations in the Outaouais region feature animals. Here are my top 5 picks from the last year:
A sleepover with wolves
Did you know that you can now sleep over at Parc Oméga in Montebello? Spend the night in rustic comfort in a prospector tent, a Witent, or a house on stilts, right next to the wolves' enclosure. It's definitely something you'll want to experience this summer!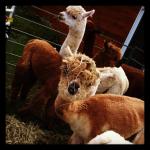 Get to know some champion alpacas
Until I visited Alpaca Unlimited, I'd never laid eyes on an alpaca. And in the Outaouais region, they're no ordinary alpacas: these are champions that enter beauty contests—and win! Depending on when you visit, they'll have different hairstyles for different competitions.
Meet real live Bambis
Springtime is birthing time, and soon little fawns will be making their appearance. In Sainte‑Thérèse-de-la-Gatineau, in the Vallée-de-la-Gatineau, visit the White-Tailed Deer Interpretation Centre to learn all about these elegant creatures and admire the fawns in their enclosure. They'll be released into the wild in October, after the hunting season. 
Skunks and raccoons await you
At the Contacts Nature orphaned wildlife refuge in Denholm, you'll get a warm welcome from the resident skunks, crows, raccoons coyotes, emus, goats and more. Don't be scared: they're all nearly tame, and they clearly adore their keeper, Georges‑Étienne.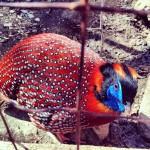 Journey to the land of the pheasants
No need to go all the way to Asia to see rare and exotic birds: you can observe more than two dozen species right here in the Outaouais region at the Pheasantry of the Hills. From ornamental pheasants to emus, peacocks and fancy pigeons, the farm is all aflutter! You'll be dazzled by the birds' brilliantly coloured plumage.
Now that summer is finally here, it's the perfect time to take a walk on the wild side of the Outaouais region and get to know our animal friends!
What about you? What animal do you most want to meet in the Outaouais region?