Fall at Camp Fortune
Published on September 3 2015
« Dude it's a bit early to start talking about skiing! »
That's right. And that's why I won't. I've skied twice in my life and the feeling of looking utterly ridiculous slaloming down a beginner slope with my skis pointing inwards has had the best of me and I'va long abandoned that endeavour. Howe'ver, I very much enjoy beautiful scenery, the outdoors and the occasional adrenaline rush, especially on a melancholy-filled autumn day. Smack in the middle of Gatineau Park, Camp Fortune is a lot more than a ski resort and has lots to offer to both city-dwellers and visitors looking to stay close to Gatineau or Ottawa. Let's take a look, shall we?
Disc-golf
The name says it all : it's like golf but you trade the clubs and balls for frisbee discs. The hole is replaced by a metal net in which you have to throw the disc, and the less throws the better. But you know what? It's HARD! At least it is for me; my shot isn't bad distance-wise but let's not talk about my aim or general ability, please. Sometimes, the disc even goes full boomerang on me and comes back. So no, I'm no athlete. Glad we got this out of the way.
Camp Fortune has both 9-hole and 18-hole courses, which can be great laughter-rich activities to do with friends. I myself plan on going a few times this fall to practise my technique, as to impress people at our annual cottage party next summer. Oh and before you ask, no, there are no golf karts. Admire the colours in the trees as you walk from the green to the tee (I'm might know the lingo but no, I'm not a golfer either).
The Aerial parks
This is where the adrenaline rush begins. I've done my share of aerial parks in the past but I'm keeping Fortune's for this fall. Visiting it convinced me that it's going to be quite a thrill and I might start with the easier Explorer zone and graduate to the more advanced Amazone sector to unleash my inner Indiana Jones (from the first three movies. I like to pretend that there is no 4th one) and do the superb, long ziplines. During our visit, we stayed pretty close to the start of the course and the neighbouring obstacles but seeing thos long metal cables go from platform to platform made me want to jump in a harness, clip myself to a pulley and zoom past the trees while screaming like an idiot. So that's probably what I'll dom next time. And after that, I'll go chill at the disc-golf.
Parents can also keep an eye on their little monkeys as the enjoy their own smaller obstacle course. And fear not, there's always a guide nearby should something happen and the course can be left at many places, should one panic at some point.
Jump on an airbag
https://www.youtube.com/watch?v=4R8sXuStKn8&list=PLRDFQUrPk3WfGMfAu-aUSfm1iZTk6esJl&index=1
Oh. My. Gosh! That was something else! When we got to the parking lot, we all said to ourselves « Well that's not so high! » Right. Not so high. Only 28, 34, or 40 feet. Nothing to write home about. The airbag was being inflated when we got there and at some point a staff member backflipped on the bag to test its reaction to a body observing the laws of physics, namely gravity. Aaaaand we're good to go!
We were given the safety instructions and invited to climb the structure to the first platform (28 ft). The concept is pretty simple: you have to fall on your back or butt in order to climb to the next level. Any other landing is considered wrong and prevents one from moving up. I don't remember the order in which we jumped but I know I heard screams and thuds before jumping myself.  When my turn came, I look down and thought it didn't look so bad. But the moment I was given the ok, I started asking myself if I had jumped correctly, how I would land, and if I'd injure myself. Nope. I landed flat on my back, just like we're supposed to, and I happily climbed to the next level.
At the third platform, howe'ver, I made a huge mistake. I looked down again. Given that I've had a huge fear of heights as a kid that still comes back if I'm too close to the edge of a steep cliff with no railing to keep me from falling, as I felt at that precise moment, that was a stupid idea.
Camp Fortune employee : -Ok you can jump.
So I do.
Me(to myself as I fall) : *curse word* this is high! It sure takes a while reaching that airbag. Doing this was probably a mistake. I mean, there's no shame in not climbing the Everest if you just did K2, right? I'm definitely going to hurt m...
THUD!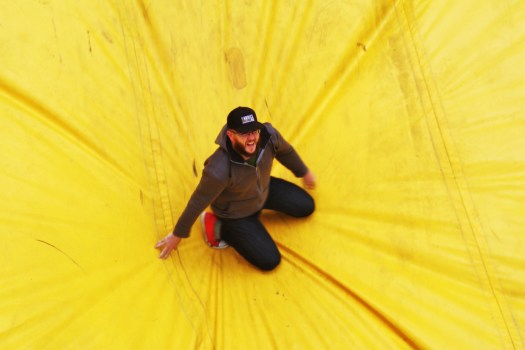 And there I was, lying of the airbag. Alive. I probably didn't really have time to tell myself all that but it is quite the jump!
But you know what? Next time I come to do the aerial park and disc-golf, I'm definitely throwing myself on that airbag again. #outaouaisfun to the max, you know? Feel free to check out www.outaouaistourism.com. You'll many more awesome things to do in the region!
cover photo: Melisa Vazquez