February 22 to 28: Three activities to try this winter!
Published on February 22 2016
There's so much to do in the Outaouais in winter, you almost wish the season lasted longer! This week, I'm suggesting three winter activities for you to discover.
Horseback riding … even in winter!
Contrary to some people's belief, it is possible to go horseback riding in winter: the only factor to consider is the temperature. When the weather's nice, why not go for a ramble through the woods in our beautiful region … on horseback? There are several equicentres in the region offering trail rides of an hour or more. Contact Camp Équimax, Ranch El Pequeno, Gatineau Equestrian Park or Captiva Farms and book your spot for the next fine winter day. And if you love horses but not necessarily horseback riding, Élevage Fabie offers horse-drawn carriage rides as well as trail rides.
Fishing … through the ice!
Just like horseback riding, fishing is also a winter sport—ice fishing, that is! One of the top ice fishing spots in the Outaouais is Pourvoirie Masson-Angers. Enjoy a day of ice fishing with your friends and family in their winter village of some 200 heated ice shacks, each with room for up to 20 people. Definitely big enough for a party! This is a great activity even for people who aren't keen on winter sports!
Hok skiing … a cross between skiing and snowshoeing!
Earlier this winter I had the opportunity to try Hok skiing! A hybrid of cross-country skis and snowshoes (sometimes called "skishoes"), Hok skis are short (so you can maneuver in the woods) and wide (so you stay on top of the snow). They're good for gliding down slopes and for climbing up them, thanks to a synthetic skin on the ski base that provides grip. With its many hills and valleys, our region is ideal for practising this new sport, which is rapidly gaining popularity in Quebec. So far, Expéditions Wakefield is the only place in the Outaouais that rents and sells Hok skis. A good place to try them out is Meech Creek Valley in Gatineau Park (parking P15).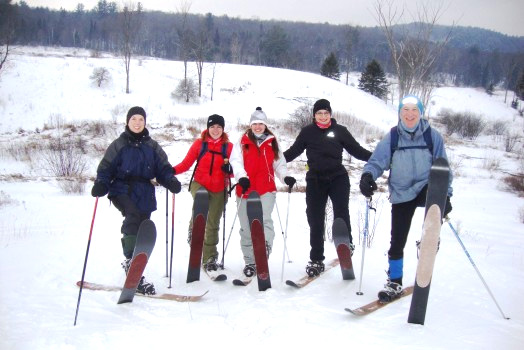 For more winter fun in the Outaouais, visit www.outaouaistourism.com.
COVER PHOTO: Élevage Fabie - Le cheval canadien