FINDING LOVE AT THE GATINEAU BEERFEST 2016
Published on May 11 2016
Every year, come the end of May, it happens. My heart beats faster, my palms get sweaty, and every sentence I try to utter comes out as nonsensical gibberish. To think of all the opportunities I'll be offered makes me weak in the knee. What if I meet THE one who'll win me forever?
Good thing is, at the Gatineau Beerfest, I don't have to choose! I can try them all and not feel guilty; my senses are overwhelmed and my lips are having a field trip! Amongst the summery music and the rib-stacks-on-the-grill whiffs reaching my nostrils, the unrepentant epicurean that I am knows he's in for a splendid weekend! These beauties come from all over Québec, with their accents and local flavours doing all they can to seduce me. And they're doing a fantastic job, year after year. They'll be with me as I go sample the awesome food (hello, ribs and sausages!) or as go crazy watching Galaxie's show.
I really hope to see you at the Canadian Museum of History from May 26 to 28! There are quite a few charming encounters I've made in the past that I'd love for you to meet!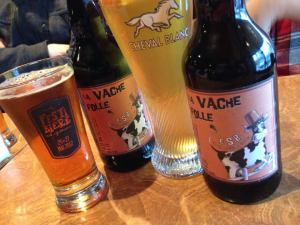 Some of the lovely encounters I've made at the Gatineau Beerfest.