Gatineau's top gourmet brunch spots
Published on April 26 2016
Don't try to tell me you can't get a good, creative brunch in Gatineau. Nothing could be further from the truth, and to prove it, I conducted a very interesting experiment. Together with my trusty photographer colleague Sébastien Lavallée and my partner, I set out to find local restaurants serving interesting and original gourmet brunches.
Read on to discover 15 amazing, very different brunch dishes showcasing a wide variety of ingredients, flavours and textures.I tried them all, and I can guarantee that they are all delicious. Now it's up to you to visit these five Gatineau restaurants and taste for yourself!
At every stop, we asked the chef to prepare three different dishes that set their establishment apart from other local restaurants. All of the executive chefs we met were delighted to take up the challenge. Interesting fact: Each chef served us a poached egg dish, but no two were the same.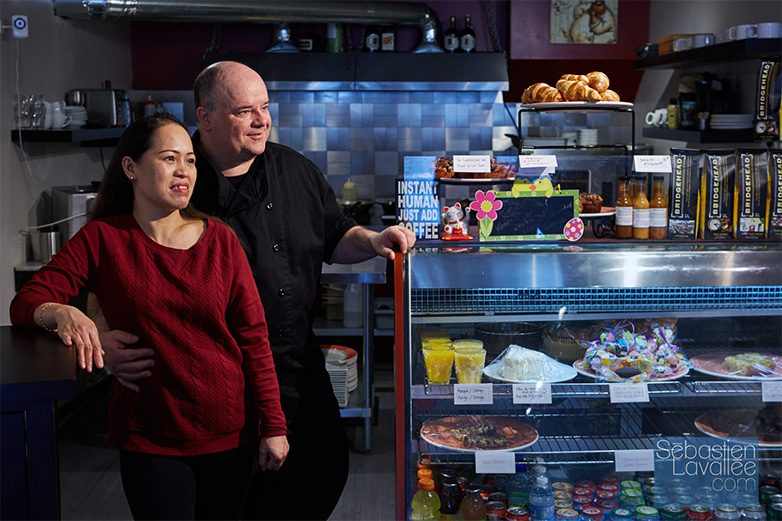 Rosemary and Jason, Five Senses Café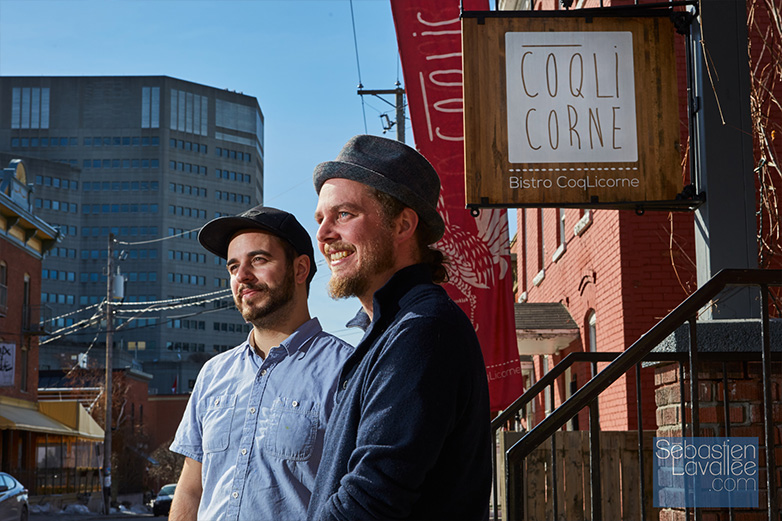 Chris and Manu, Bistro CoqLicorne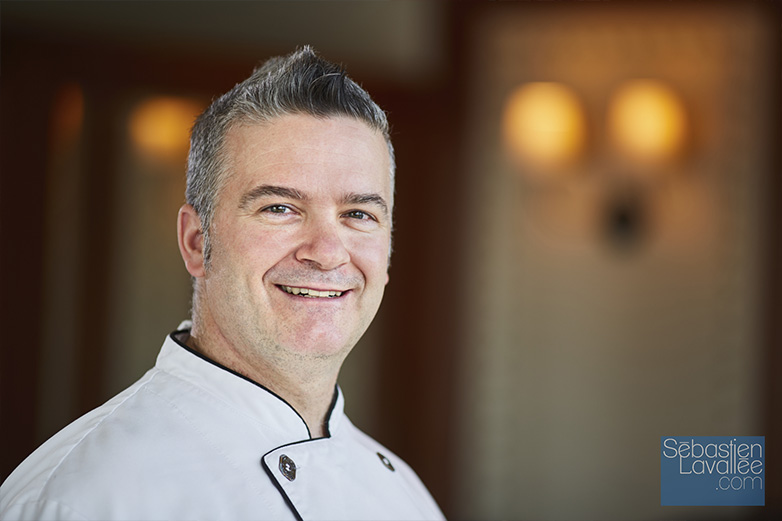 Frédéric, Arôme Hilton Lac Leamy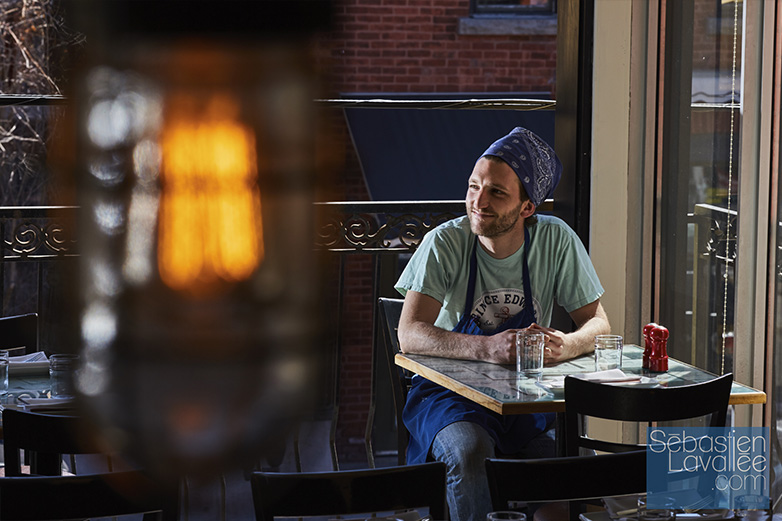 Romain, Les Vilains Garçons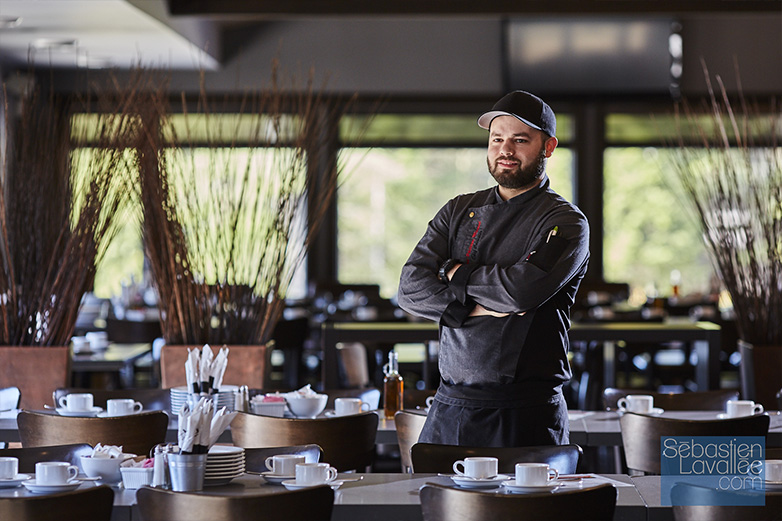 Jean-Philippe, Le Rituel
The restaurants are listed in the order we visited them, and the dishes are listed in no particular order (certainly not in order of preference).
What a find! I have to confess, I'd never heard of this charming little restaurant until I set out on my quest for the ultimate brunch. Opened a year and a half ago, the Five Senses Café can accommodate about 30 people. The atmosphere is warm and welcoming, as are the owners, Rosemary and Jason, who are partners in life as well as in the kitchen.
Dish # 1

Grand Marnier French toast with bananas Foster and a side of maple-infused spiced bacon confit. As you can see, the French toast is made with croissants. As for the flambéd fruit … yummy!
Dish # 2

Quinoa paella with shrimp, sausage, avocado, arugula and poached eggs with hollandaise sauce. I'd never had quinoa for breakfast before—it's really good! FYI, thisdishis gluten-free.
Dish # 3

Ribeye steak, two eggs, baguette, tomatoes, hollandaise sauce, house-made fries and salad. Halfway between breakfast and lunch, this is a wonderful reimagining of the lumberjack special!
This is one of only two restaurants on Laval Street that serve brunch (the other is Les Vilains garçons). I was familiar with the CoqLicorne's lunch and dinner menu, but I'd never been for brunch. As you can see from the photos, everything on the menu has a creative and unconventional twist. Interesting fact: They serve La Tierra Co-op coffee.
Dish # 4


L'oiseau jongleur ǀ Fried chicken, waffle, poached eggs, coleslaw, smoked ketchup and maple syrup. I would describe this dish as "over the top," while my partner proclaimed it "insanely good."I would never have thought of eating fried chicken for breakfast (except maybe "the morning after the night before"), but it was great. Compliments to the chef for creating this bold combination, and for using local chicken from the Ferme Aux saveurs des monts.
Dish # 5

Régime de banane ǀ Banana fritters, yogourt, fresh fruit, sunflower crumble, coffee and chocolate coulis. This is the "healthy" menu option, but you have to say it fast. The fritters are made with banana liqueur.
Dish # 6

L'aube sur la banquise ǀ Pan-seared trout filet, poached eggs, purée of olives and grape tomatoes, arugula, goat cheese and lemon sauce, and toast. A great choice if it's closer to noon than 9 a.m.
Arôme Seafood and Grill, Hilton Lac-Leamy (in the Casino du Lac-Leamy complex)

The time has come for my second confession: I'd never before sampled the lavish buffet at Arôme restaurant at the Casino du Lac-Leamy, and now I wish I'd discovered it sooner. Our eyes nearly popped out of our heads at the sight of the amazing buffet before us. There are so many things to try, you're sure to end up eating a lot more than you normally would! There's a cold table (with excellent smoked salmon, among other delights), a hot table offering traditional breakfast fare as well as more exotic selections (don't miss the sausage plate from William J. Walters), a dessert and pastry table, a table of fresh-sliced cold cuts, a special serving area where you can order any kind of omelette you can imagine, and even (no kidding) a BeaverTail table. Here are just three of the dishes you might put together from this delectable smorgasbord.
Dish # 7

Eggs Benedict in a potato nest with carbonara sauce, boar bacon and spinach.
Dish # 8

Veal scallop, duck leg and pepper sauce.
Dish # 9

Upscale French toast with peach and apple sauté and caramelized pecans, drizzled with Brie cheese. It really is "finger-lickin' good!"
It's been only a few weeks since Les Vilains garçons started serving brunch, and it's a welcome addition! They've built their reputation on innovation, with a breakfast, lunch and dinner menu that changes daily. The downside is that if you find something you really like, you may not see it on the menu next time you go. "We're not fans of repetition. Our kitchen has no trash can. We create dishes using what we have on hand and what comes in our daily orders," explains chef and co-owner Romain Riva. The brunch menu features four specials written on the chalkboard: a meat dish, a fish dish, a sweet dish and a vegetarian dish. Tip: Their menu is posted daily on their Facebook page, so you can get a sneak preview before you head out.
Dish # 10

Crispy pork cheek, celeriac, bok choy, fried egg, coriander salad and spicy sauce. The fried egg was a first. Really interesting, texture-wise.
Dish # 11

Albacore tuna and wild shrimp, ratatouille, poached eggs, and herbed white butter.
Dish # 12

Banana bread, pear sorbet, maple cream and chocolate sauce. We shared this dish, and it made a lovely dessert-like treat at the end of the meal.
Earlier this spring, I treated myself to Le Rituel'sfamous sugar shack brunch, and it was love at first sight. Their brunch menu is perhaps the most traditional of the five we tried, but it's absolutely top class, and every dish features a little something special. The restaurant is located in the Le Sorcier clubhouse, so you'd be nuts not to go there for brunch before or after your next round of golf.
Dish # 13

Eggs Benedict with smoked salmon and trout rillette, béarnaise sauce and tarragon on an English muffin.
Dish # 14

Stack of pancakes with maple meringue, white chocolate and maple whipped cream and maple floss, served with Le Sorcier maple syrup (they've been producing their own syrup for 4 years now, from a stand of 400 maple trees on the property).
Dish # 15

The sugar shack menu was such a hit that the restaurant decided to keep one item (albeit slightly more modest) on the regular menu. It's a little of everything: scrambled eggs with green onions and bacon, served with (truly amazing) chutney (made with onions, celery, pineapple, tomatoes and peppers, with a hint of cinnamon and star anise), blueberry, bacon and maple pork sausage, homemade pork creton,ham hock cooked in beer and maple syrup with crispy bacon, oreilles de Crisse (pork rinds), maple baked beans, and Salardaise potatoes (cooked in duck fat with parsley and white onions).
Spring is just around the corner, and it's worth pointing out that all of these restaurants have very nice outdoor patios! Start your weekend on the right foot with a great cup of coffee in the warm Outaouais sunshine.
For more restaurant suggestions and fun things to do in the Outaouais, visit www.outaouaistourism.com.