Howlin' Good Times! World Championship Dryland Dog Race October 29-November 1
Published on October 8 2015
Pontiac is home to a world-class event that's truly gone to the dogs.
"I love dogs. They're always ready to please, and they are so honest."
So says Denis Lozon of Timberland Tours Dog Sled Adventures, a business this doglover founded in 2000 in Bristol, Pontiac. Being just less than an hour's drive from Gatineau and easily accessed via Route 148 East, visiting Timberland is a must, particularly in late October.
Why? Because from October 29-November 1, Timberland is home to the World Championship Dryland Dog Race.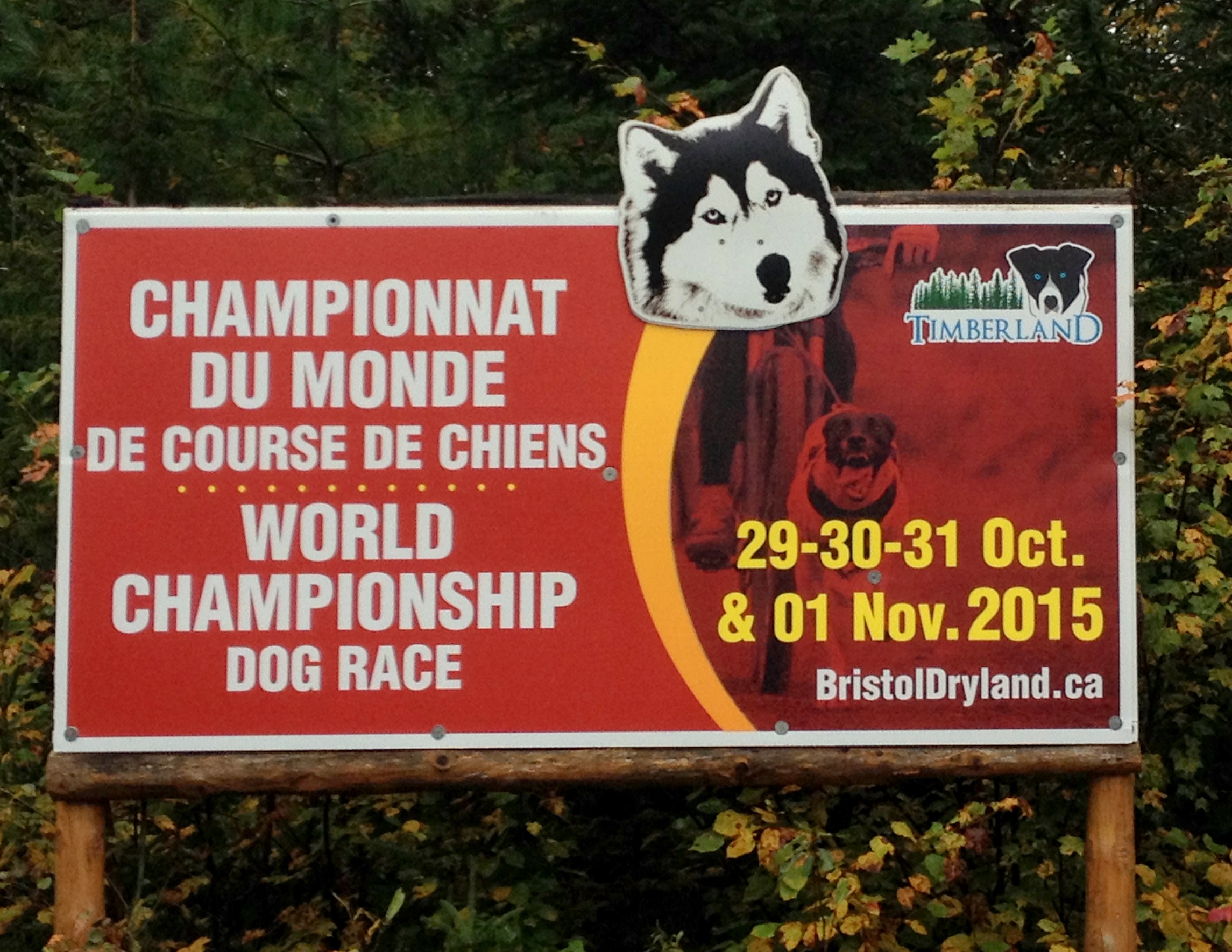 What's that?
Dryland Dog Racing vs. Winter dogsledding
Most of us know about winter dogsledding, where a dog team pulls sleds through snowy trails. Mushers stand on runners behind the sled and encourage the animals to run. It's fun, and it speaks to Canadian and northern peoples' heritage, where dogs provided winter transportation.
Enter dryland racing. Rozon is typical of dogsled team owners who keep their teams fit by racing in spring, summer and autumn, using a wheeled vehicle from which to mush.
World Championship Race
Although he welcomes us year-round to enjoy the dogs, Rozon isn't "only" into dogs for a day-trip tourism venture.
This guy's hard-core, being into racing in a very big way. In fact, Rozon has held championship dog races here at Timberland in late October for years.
Last year, he welcomed 270 international teams which dashed through Rozon's network of sandy trails wending through his red-pine forested property. Imagine wheeled carts hauled by straining, tongue-lolling dogs with crazy looking eyes! I say "crazy looking" because these Eurodogs are built to run and that's what they want to do, pure and simple.
Eurodogs? What are they?
Eurodogs are the breed that's been sweeping the international dog-racing circuit for years. Forget those images of fluffy Alaskan or Siberian Huskies. Says Rozon, "When I started Timberland fifteen years ago, my 26 dogs were all Alaskan Huskies. I'd breed my winners, and sell pups. But now, Eurodogs have taken over the scene. I couldn't sell my pups so I had to switch."
The canny businessman and doglover checked out the Eurodogs which contestants from Norway, Japan and other northern countries were breeding, using – and winning races with.
"They'd always been there, these Eurodogs. But this breed, a combination of German Pointer, with about 20 per cent Alaskan Husky and 5-10 per cent greyhound, is the fastest in the world now. German pointers are the foundation breed – English pointers work well, too, there's not too much difference between them."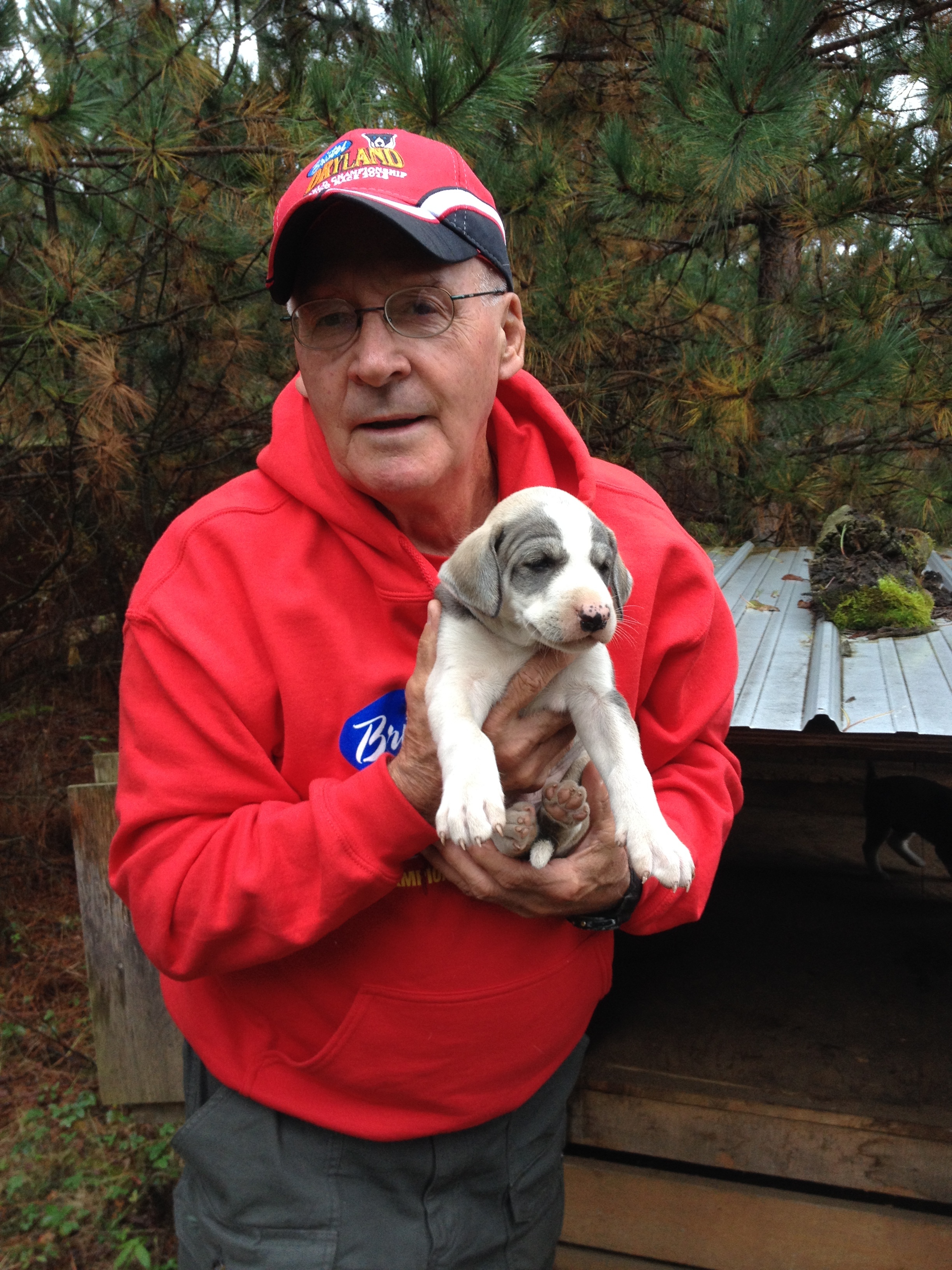 Nowadays, Rozon owns 40 Eurodogs, 8 of which he uses for racing. His lead dog, Bolt, is a huge black animal that – exactly like all of Rozon's dogs – is friendly and very eager to be petted.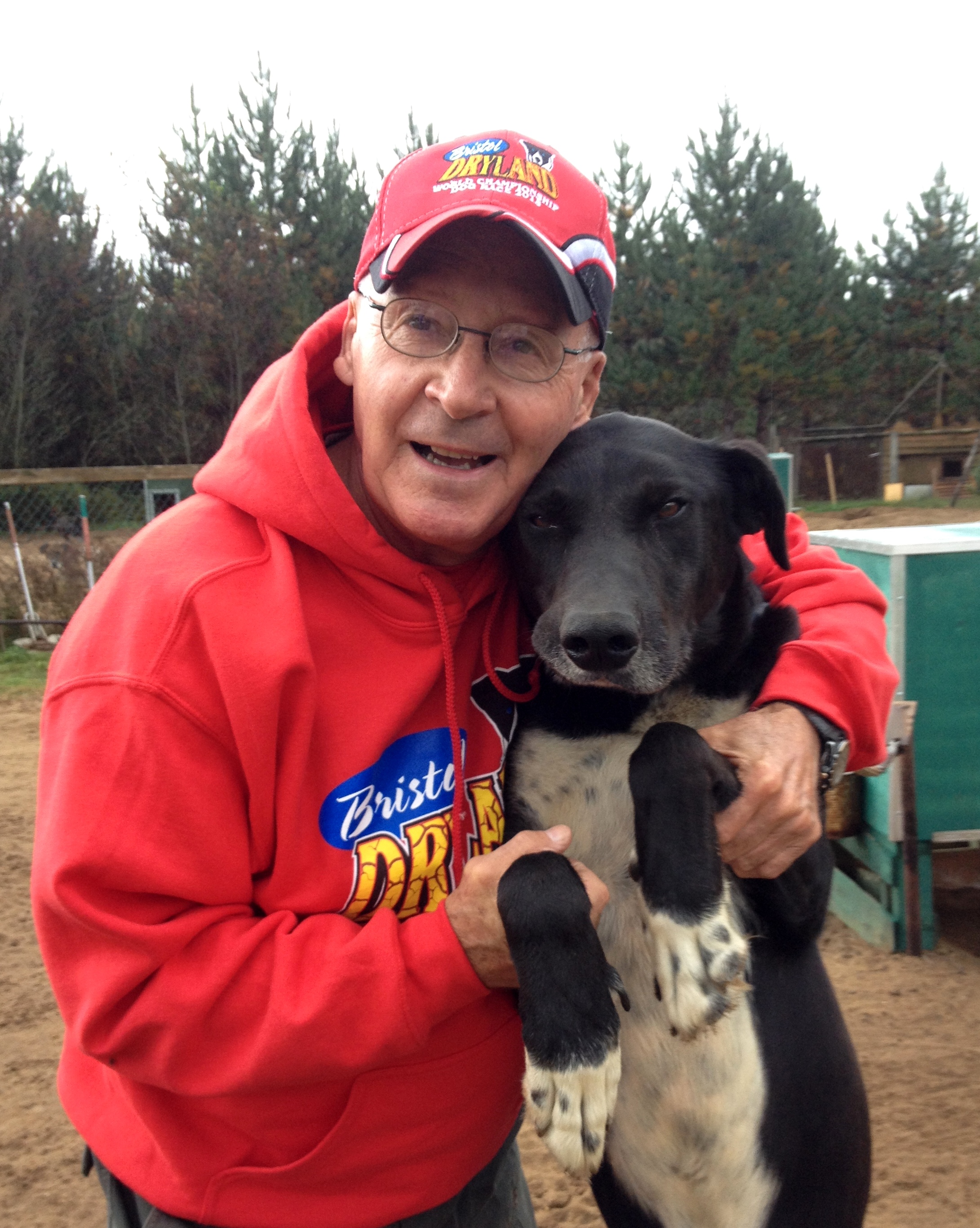 The racing
Rozon held the first dryland race at Timberland in 2010. I attended for the first time in 2011, and was stunned by the action. I was enthralled at how eager the dogs are to start running. When the handlers bring their teams to the start line, some dogs dance about on their hind legs, howling and barking wildly. Tongues dangle out of their mouths. Teeth are bared in that hilarious-looking sled-dog grin – and, when the starting gun sounds, teams disappear in clouds of dust accompanied by truly insane-sounding barking. If you're like me, you'll be howling with laughter because the dogs' enthusiasm is infectious.
The races
"We feature three types of racing," explains Rozon. "We have bike-joring, where the driver is at the back on a bicycle contraption, and one or two dogs pull. Then there's the scooter, where teams pull large wheeled conveyances. Finally, there's the cannycross, where a dog races around the trail pulling its owner on a leash. Yeah," he nods as I express astonishment, "you must be in great physical shape to hold on to a leash at the end of a race dog."
He's the master of understatement. Note to self: never, ever try that. I asked Rozon if runners ever fall over on this race. "Yes. It's pretty wild!"
Come to the World Championship Dog Race!
So come on out October 29-November 1 and cheer wildly for your favourite teams. With more than 270 teams from all over the world, we'll all be enthralled, I guarantee it.
More information?
Check out Pontiac Tourism as well as Outaouais Tourism.