July 13 to 19: Explore the marshlands of Outaouais
Published on July 13 2015
Amid the cattails and waterlilies, discover the abundant flora and fauna of our region's marshlands.
Be a-mazed at Eco-Odyssée
For a unique experience in the heart of the Outaouais region, visit Eco-Odyssée. Discover beaver habitats as you navigate a water maze consisting of 60 intersections spread out over 6 km. Choose from nearly 30 adventures, and enjoy the splendour of the marsh environment from the comfort of your pedal boat. Enrich your visit by downloading Éco-Odyssée's new iTunes or Android app, which combines GPS features with a virtual guide. It's a winning combination of nature, technology and enjoyment!
Chasse-gardée du marais
Located just a few kilometres from Gatineau–Ottawa, this hidden gem (whose name means "marshland preserve") features several themed gardens, including a marsh, where the rainbow of red, pink, yellow and fuchsia waterlilies will change your mental picture of this watery environment! Explore the ornamental, woodland, hanging and rock gardens and the Asian garden, and admire the majestic white swan gliding elegantly over the water. Guided tours are available on July 19 (reservation required).
https://www.youtube.com/watch?v=td5yD6Ij5mk
Zizanie-des-Marais at Plaisance National Park
The Zizanie-des-Marais ("marshland mischief") trail runs for 1 km and has a floating boardwalk and a lookout tower offering panoramic views of the surrounding area. The trail is lined with an abundance of aquatic plants, and at certain times of the year they look like a floating garden. The marsh edge bustles day and night with all kinds of birds, fish, mammals, reptiles and amphibians. From the Discovery and Visitors Centre, you can take three other hiking trails that showcase different habitats.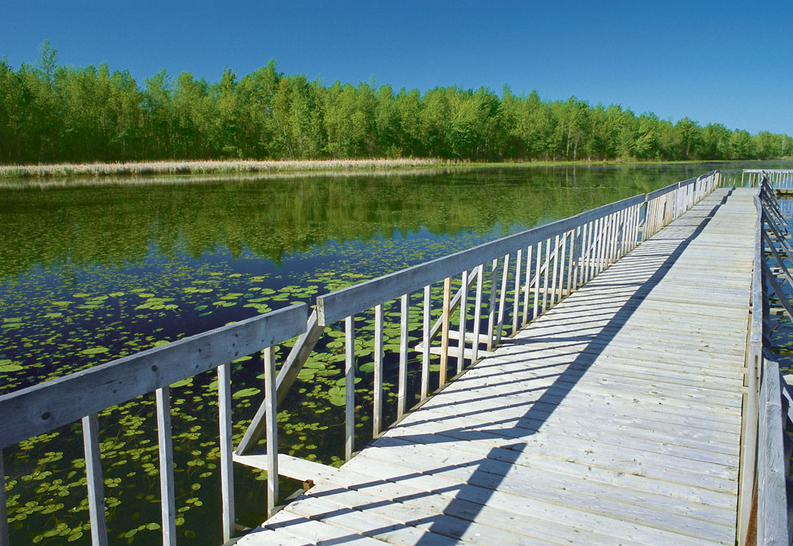 For more outdoor activities in the Outaouais region, visit our Website. And follow us on Twitter, Facebook and Instagram … remember our hashtag, #outaouaisfun.
Cover Photo Credit: Parc national de Plaisance