L'Auberge Petite-Nation. What's not to love?
Published on June 12 2014
Connecting to Facebook on an oh-so-typical day, I notice a little "1" in a red dot indicating that I have mail. Whoopee-doo. So I click on the unread message.
"Hey how would you feel about doing a mural in one of the rooms at the Auberge over the weekend?"
How would I feel? Really? How would a lion feel if a huge, juicy piece of sirloin was tossed its way?
Because you have to know that the Auberge isn't just any inn. It's Auberge Petite-Nation in Saint-André-Avellin! There, one will also find Le P'tit café de l'Auberge. Not only is it a consulate of Heaven down here on Earth, that place has a groove unlike anywhere I've been so far. Here's a non-exhaustive list of reasons why my answer was enthusiastically affirmative:
1. The Program
The Auberge's lobby will make you sure of at least one thing. You are in Québec and judging by the posters, a great percentage of the province's music scene has visited the place. Stage veterans. Relative newcomers. All of them praised for their craft and used to filling venues several times the size of the Café. Because you see, in many dictionaries, there's a picture of the place next to the word "intimate". The artists love it and the fans, well, they can't get enough of it. Frankly, I can't think of a better place for someone wishing to discover the Québécois culture and its rich musical scene.
The Auberge's manager has done what few thought possible by attracting such high-calibre shows in the Petite-Nation La Lièvre. I've seen Arthur H, a star throughout the French-speaking world, play his piano before 80 people. I've seen bands renowned for being loud (namely Gros Mené, Google them) make glasses explode over the counter, by sheer decibel power. I've seen crowdsurfing on a crowd of about 40 people. We forget it's small and how many people are in the place. Actually, that's not true. We're fully aware of it and that's what we love the most about it all!
2. The Creative Energy
In the program you'll notice "Peinture en direct" (live painting) and "Micros ouverts" (open mics) (never been to the open mics yet but I'll tell you about them when I get the chance). I am howe'ver a regular participant at the live painting events. Usually you'll have four to six painters creating works in front of your eyes, all to the same theme. A live band or a DJ, depending on the occasion, will provide music accordingly. So far, I've been to a Klezmer night, a British rock night, an Icelandic night (that's me in the picture below, painting glaciers), and even a night in partnership with the Twist Fiber Festival (where I painted a sheep of which I'm quite proud!), just to name a few.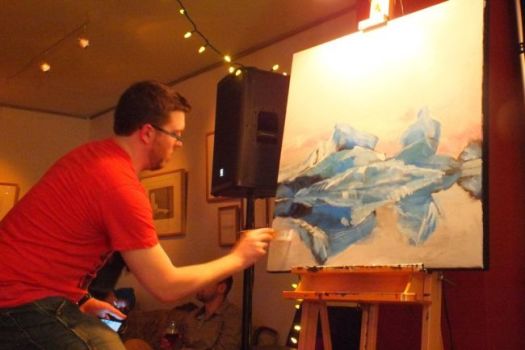 Everybody in the place thrives on the same energy: the painters on the stage, the musicians, the locals enjoying their Friday evening, and the visitors staying at the inn (which is part of the Hostelling International network, by the way). The people we meet, the discussions we have… it's magical! There's a general feeling that everybody's suddenly a close friend and I challenge anyone to leave the place without a huge smile on his or her face. Yeah, it's like that.
So when you're asked to do a mural in one of the rooms and feel that same energy over a whole weekend, well you just don't let an occasion like that slip away.
3.    The Menu
Hungry? Thirsty? That the menu at Le P'tit café is relatively basic (they serve paninis, nachos, goodies from a local baker) is largely compensated by the quality of what they have to offer. It's gooooood. Veeeeeery good! The crêpe forestière and the mango smoothie I had last weekend had my tastebuds dancing to "I Feel Good" for the rest of the day. And the best thing about it all is that most of what they serve is locally grown making the place an excellent showcase for the region's producers.
The beer fridges are also quite interesting because in them, you won't find the same stuff you can buy in just any convenience store. No sir! Only Quebec microbreweries end up in those fridges. And if you're a craftbeer enthusiast like yours truly and you end up having one too many, you can rent a room for a very competitive rate and get back on track the next morning with a perfect cup of coffee (and perhaps a warm croissant). That easy.
You see now why I couldn't decline the invitation? There won't be any live painting for the summer but at least I got to feel the vibe one last time before September (even though I'll probably drop by for a show or two over the summer).
Oh, by the way, if you ever plan on spending the night there, ask for room 107. It might be small but since last weekend, it's definitely the prettiest… ;)