L'Orée du bois' Chef extraordinaire
Published on December 2 2015
Outaouais residents are rightly proud of their chefs, because so many offer delectable meals born of "le terroir," freshest of fresh seasonal produce sourced from our own region.
Enter L'Orée du bois. This charming restaurant is tucked into the forested hills of Old Chelsea, adjacent to Gatineau Park. The setting plus cozy ambiance created by the 1950s log "home" is immediately welcoming. Indeed, while being seated at our table, I remarked to my husband Eric that I felt as if I'd entered someone's beloved country home. With a crackling fire, artworks on the walls, and subdued lighting, L'Orée du bois exudes a relaxed welcome.
As does Jean-Claude Chartrand, who is not only the award-winning chef but also, owner of this well-loved local restaurant.
What's so special?
Pairings – combinations of textures, flavours and more – are crucial to the discerning palate.
Chef had us clamoring for more culinary delights right from the get-go. After appreciating an introductory amuse-bouche (tantalizing, bite-sized hors d'œuvre) of salmon tartare and pesto made from arugula, we were hooked. The fattiness of the salmon paired exquisitely with the bite of the arugula, leaving us eagerly anticipating more.
Every course was memorable and our evening wait staff, Alexandre Ruaud's introduction to each dish gave us insights into what we would be savouring. For instance, he redefined ambrosia when offering us seafood cappucino with a hint of truffle oil. Paired with a crisp Alsace wine, "sensational" springs to mind.
Ruaud smiled at our obvious pleasure, adding, "When the fresh truffles come in, they are like black gold. Such bursts of flavour with an amazing velvety texture."
Introducing Chef Chartrand
I love it when Chefs visit their guests to enquire whether we're enjoying our meals. So, when Chartrand approached our table, we invited him to join us. He did, mentioning us that the table next to us had ordered his specialty, Beggars' Chicken.
"It's my favourite dish – at the moment." Grinning at us, he admitted his favourites evolve as he discovers, then masters new techniques, flavour combinations and presentations. We're all grateful this is the case.
Beggar's Chicken soon arrived, greeted with appreciative gasps. First, Chartrand explained, the chicken is marinated, stuffed with chanterelles and fois gras, wrapped in lotus leaves, then encrusted in clay, wherupon it's baked in the oven for five hours. "Just watch what happens next," he exclaimed.
Being given permission to crowd around our neighbour's table, we had a bird's-eye view. Imagine the scene: a beautiful dish made by local potter Carol Froimovitch containing the chicken was placed in front of the diners. Then, with a flourish, Ruaud cracked open the clay, exposing not only the lotus-wrapped bird, but also releasing the fragrance of rosemary, thyme, Chinese five-spice, and ginger along with two maple liqueurs (Sortilège and Charles-Aimé Robert).
The only disappointment? We weren't partaking!
But then again, it motivates us to return, with a group, to sample Chef's award-winning dish. Yes: Beggar's Chicken won Chartrand first-place in the Quebec's 2014 Maple Masters Contest. "That award won me a week-long trip to France," he recalled, adding with a twinkle in his eye,"I didn't waste my time. I enjoyed myself, dining, meeting people, being inspired."
We can all benefit from such inspiration when we visit L'Orée du bois, and sample Chef's creations. Incidentally, the dish is named after a legend. A Chinese beggar stole a chicken, then cooked it by hiding the bird in clay-like mud so he wouldn't be caught stealing. The rest, as we say, is history, and a Chinese delicacy was born.
What does he enjoy about the Outaouais?
"I love it here." Waving his hands about, he's not merely talking about his restaurant, but also the location. "L'Orée du bois is right in the woods. I mean, this is the forest. It's beautiful. We have our own herb garden, we source ingredients from local producers. We are just so fortunate here in l'Outaouais."
I agree. You will, too, when you come to L'Orée du bois. Note to self: I have to remember to pre-order Beggar's Chicken when I reserve a table. Want to join me?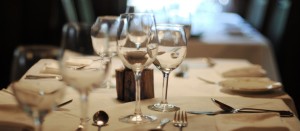 Katharine Fletcher is a freelance writer and author. Visit her at katharinefletcher.com