March 30 to April 5: Top chocolate boutiques in Outaouais
Published on March 30 2015
Chocolate, chocolate and more chocolate! If you have a sweet tooth, you'll love this week's suggestions: three places to find top-quality chocolates, just in time for Easter.
ChocoMotive
Tucked into the former Montebello train station (built in 1930), ChocoMotive is Quebec's only chocolate economuseum, and a fine artisanal chocolate shop specializing in organic and fair trade products. Drop in to observe master chocolate makers at work—and sample their wares, of course! Their mouth-watering creations include unique combinations of chocolate and lavender, coffee, maple, fleur de sel, various spices, and even gold powder. The shop also carries products made by other local producers: cheeses, jams, beers, etc. It's a great place to fill your shopping bag with fresh local flavours!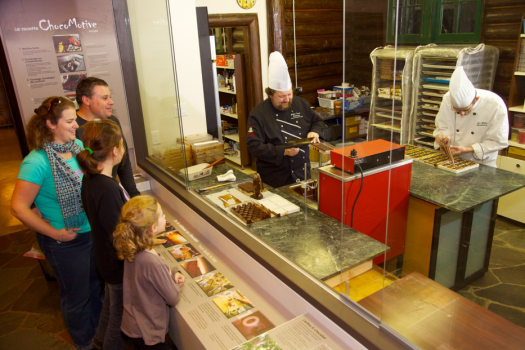 Perhaps needless to say, the talented team at ChocoMotive has also been working hard to create a delectable line of Easter-themed chocolates. Come and pick out your special bunny!
Good news for Gatineau residents: ChocoMotive's delicious products are now available at Pastina, La Maison Bisson, La Trappe à Fromage and La Brûlerie.
Rochef Chocolatier
For over a decade, Rochef Chocolatier's delectable chocolates have been making their loyal customers very happy. All their products are carefully made by hand using the highest quality pure Belgian chocolate. A favourite with chocoholics throughout the region, the shop carries an impressive selection of sweet treats: truffles, pralines, chocolates to pair with beer, gourmet chocolate bars, chocolate pastilles for professionals, a "Cocoas of the World" line of chocolate bars, and gift boxes for all occasions.

For Easter, chocolate lovers will particularly enjoy the chocolate-covered nuts, the chocolate eggs filled with maple cream, marshmallow or salted caramel, and the giant bunny made with a (w)hopping 2 kg of chocolate!
Rochef Chocolatier chocolates are available at several locations, including right here at the Maison du Tourisme.
Miss Chocolat
Who doesn't love a little something from Miss Chocolat? Crafted with love, care and creativity, these top-of-the-line artisanal chocolates are sure to please the most discriminating chocolate connoisseur. At Easter time, you and your family can enjoy a chocolate mystery basket, hand-made mini-eggs, chocolate popcorn, or hand-made chocolate eggs with marshmallow, maple caramel or praline filling. Resistance is futile!
Because there's no such thing as too much chocolate, on April 4, Miss Chocolat is giving an Easter chocolate-moulding workshop for young aspiring chocolatiers. And when you visit the shop, guess how many chocolates are hung from the ceiling and you could win a chocolate centrepiece worth $100.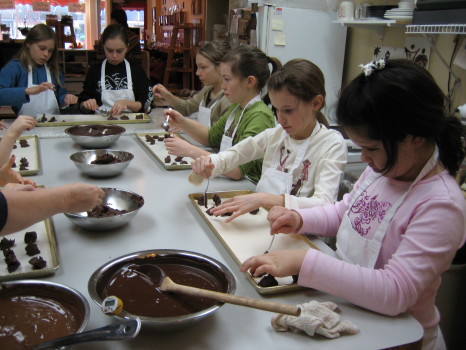 For suggestions for fun family Easter activities, read this recent blog post Sandy Allen. And follow us on Twitter, Facebook and Instagram … remember our hashtag, #outaouaisfun.
 The 2015 "People's Choice Award" contest is now officially open, with more than $6,000 in prizes to be won! From now to April 10, VOTE for your favourite regional tourist attractions!