Nice encounters at the Maison du tourisme
Published on October 15 2015
Fall is probably my favorite season but not just because of the colours. There's so much more to it! Melancholy is a feeling I love and being torn between wanting more hot and sunny days and letting the cool breeze make the red leaves tango around us inspires the artist in me. I'm kind of overwhelmed with emotions just thinking about it and it's feeling a tad nostalgic that I'll tell you about some of 2015's most memorable visitors.
Working the front desk means meeting all kinds of people. We get asked all kinds of things and we're confronted with all kinds of situations, so no two days are alike. That's actually the beauty of it : it's next to impossible to get bored! This summer has been a particularly busy one and that means we met many, many people that we're going to remember for years to come. There's also the guest book that we leave for visitors to sign and that we like to read from time to time, knowing all too well that we'll have "Hey! I remember these people!" moments.
I think of Rob and Nancy Howse from Saskatoon, who stopped a tour office on their westbound bicycle trip across Canada. Not only is that impressive in itself but we learn by talking to them that they're recreating their honeymoon that was... 37 years ago! I mean, some people will have anice dinner or uncork a good bottle to celebrate; they do St.John's to Victoria on their two wheels... twice!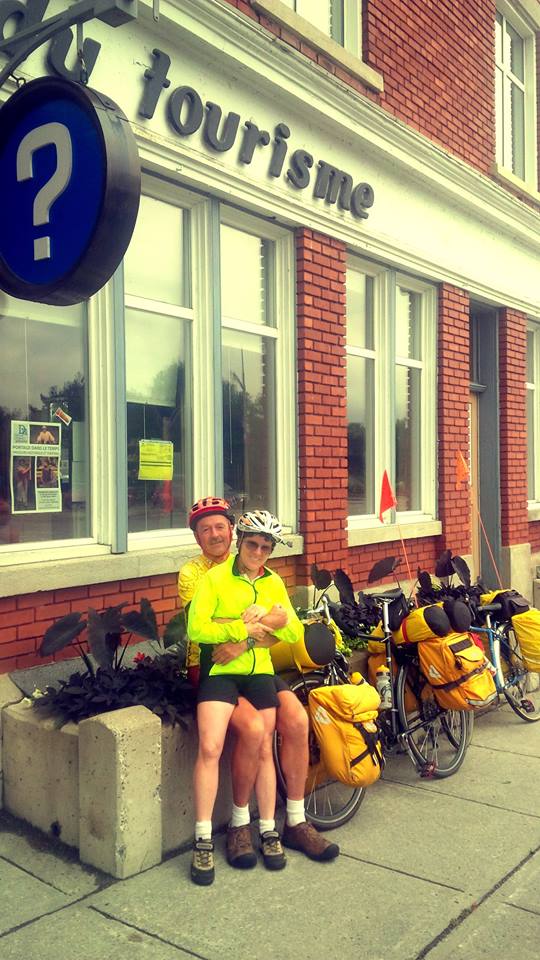 There was also this British couple who was visiting relatives in Toronto and had decided to spend a day in Ottawa. A few hours before heading back to T.O., they crossed the Alexandra Bridge and found our office. So they stopped and asked if there was anything worth seeing on our side of the river. Enter Melisa and me. After a good half-hour of talking to them, they picked up the phone and called their hotel in Toronto to cancel the room they had booked for the night and made a reservation at the Wakefield Mill instead! Ha! In your face Toronto!
I can't forget Joaquin and Oscar, the two young Brazilians who had just gotten off the plane with backpacks like they were going to be spending a month exploring the Amazon. Their destination: Montebello's Amnesia Rockfest. After enjoying our Wi-Fi and figuring out where to eat and sleep a few hours, they asked how they could get to Montebello without a car, what they could do over there between two good blasts of decibels, and we taught each other a few words in the other's language. They saluted me in French, I answered in Portuguese. Well guess what? Two days later, they were back, completely overwhelmed by their stay! They came to thank us for our help and to tell us how they loved the region and the huge contrast it was with their native Sao Paulo. To Oscar and Joaquin, my inner rocker gives you heartfelt devil's horns!
I also have to talk about Antho and Céline, from Toulouse, who made me promise to call them if ever I'm in their neck of France, the two Germans who insisted that I accept the generous tip they wanted to leave, the Chilean family that spoke only Spanish and that had A LOT of questions! I tried to help them with mi vocabulario un poco limitado, while waiting for Melisa, our Mexican-born colleague, to come and help.  « Hum… como se dice… hum… pueden caminar circa el rio y hum… El Museo de historia es muy grande y… muchos restaurantes circa aqui… hum… no me recuerdo la palabra… » It was good practice, I'll tell you that!
But enough about me! My colleagues also met their fair share of awesome visitors! If our guestbook is any indication, Zoé, Sean, and Alice have made quite a mark on many people because their names keep coming back along with smiley faces and very positive adjectives. And these people are from everywhere: Canada, the USA, Europe, Australia, Indonesia... What that tells me is that our team truly was on fire, this summer!
Summer... It might be gone but hey! We're still here! The Outaouais has something to offer year-round and it'll be our pleasure to help you live it to the max. So come and see us! And you don't have to cross Canada by bike to write a little something in our guestbook.
See ya!