Road Trip in the North of the Outaouais!
Published on August 19 2015
This summer, I really felt like road tripping with my family throughout my own Outaouais Tourism. Why's that? First, we honestly don't know what to offer our parents anymore on birthdays and special occasions. They have everything they need. And, because they like spending quality time with their wonderful children (my sister and I), we decided to opt for small getaways, road trips and activities together this summer. Secondly, I'm always up for an adventure where I truly have the impression (even only for one day) to be on vacation. Let's just say that I've vacationed a lot this summer.
Here's our detailed itinerary in the north part of the Outaouais region, called Vallée-de-la-Gatineau. Unfortunately, my sister couldn't attend this road trip for work reasons. So alone with my old chums (my parents) I happily headed out on a bright sunny Sunday morning!
First off:
The magnificent Gatineau River to be discovered while driving north on road 105, especially right after the quaint village of Wakefield. That particular stretch is quite stunning and the river is narrow which gives you the feeling that you could easily cross over. Beautiful sceneries ahead!
Second discovery:
From road 105 north, we turned right onto rue Principale in the Municipality of Bouchette. On your right, we enjoyed a stunning view of the Bouchette Presbyterian Church and at the end of the village, we crossed over the Gatineau river on the "rue du Pont" (Bridge Road)… one car at a time! My Dad was a little bit nervous because I was driving (and I have to admit that I'm a bit of a cowboy, but that's a whole other story). Once on the other side, watch out on your left for the "Parc des Pionners" an outdoor museum which pays tribute to the men and women who built the area in the late 1800's. On site, aside from being a beautiful picture spot, you'll find ancient agricultural machineries. PS: the main photo of this blog was actually taken from this site!
First stop:
The Village récréotouristique Majopial and its stunning terrace! Actually, the terrace was the first reason we decided to drive north. Indeed, my parents love lakeshores and I had promised a breakfast along those lines. Nestle by the magnificent Lac des Trente-et-Un Milles (31 Milles Lake), this venue is ideal for foodies, outdoor enthusiasts and people looking for an overnight getaway in the countryside. For breakfast, all three of us decided on the butter and maple crepes, served with small berries and whipped cream called "Once upon a time, there was a maple delight" and believe me, there was (see picture). Also not to be missed: the incredible wine cellar with bottles for every budget.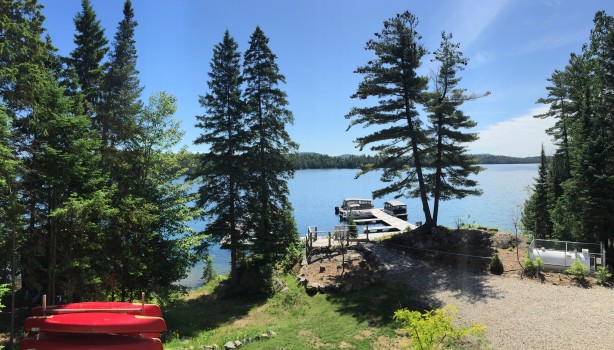 Second visit:
The Forest Fire Prevention History Interpretation Center and its observation tower… Wow! We had no idea what to expect but we were happily surprised. Located in the historic Château Logue, the 5 exhibit rooms can be visited on your own or along with a qualified guide (we highly recommend the guided visit for all the stories and knowledge share throughout the tour). Artifacts, videos, art pieces, reconstitutions, firefighting headquarters… There're many ways to learn about the people who protect our forests, their work and daily challenges. After our guided visit, Mom and I decided to brave up and climb the observation tower: 122 steps exactly which is the equivalent to 8 stories high! The breathtaking view on the surroundings was definitely worth the climb. And if time allows it, you can also discover Maniwaki's Heritage Tour on foot along the Desert River.
Third stop: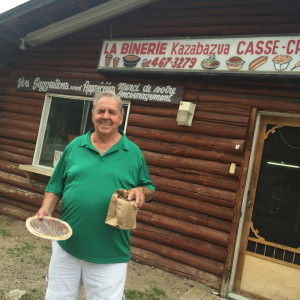 On our way back to Gatineau, we had to make a stop at La Binerie in Kazabazua for my Dad! When I told him we were heading north, the first thing he asked is "Can we stop for baked beans"? In the Outaouais region, we have a charismatic Haitian woman who is renowned for her baked beans cook up in the sand. My parents also bought a homemade sugar and pecan pie which was – according to them – just as divine!
Anyways, this was a wonderful road trip in the Vallée-de-la-Gatineau! And we're looking forward to a second one with different venues to discover. If you would also like to organize your own road trip in the Outaouais region, I strongly invite you to check out Outaouais Tourism's Web site!