Staying warm in the Outaouais
Published on February 19 2015
Playing outside is fun. Sliding, skating, dogsledding, snowmobiling, or skiing to a refuge to enjoy a nice fondue with a glass of wine, that's called enjoying the cold season in the Outaouais. Howe'ver, there are days where one does not want to go out. Nope. Some days, one just wants to stay inside where it's warm. For this reason, we came up with a list of ideas to show that winter is #outaouaisfun indoors just as much as outdoors.
No winter tires? No worries!
In winter, roads tend to be terrible. Snow and ice will make conditions difficult and quite often infuriating. At Top karting,  the road is always dry and you have no windshield to scrape. Gather friends or colleagues (or go by yourself!) and channel your inner Michael Schumacher (or take your time and have everyone pass you by, as I did last time). There's even a podium to strike a pose, trophy in hand, and pool tables and a bar for the after-race celebration. Great for the champion in all of us.
You were a great warrior in a past life?
Strategy. Adrenaline. Courage. Wether these words describe you or not, Tag Zone will help youp retend you're part of an elite SWAT unit for a while. Show your adversaries who's best (should it not bey ou, be a sport and have fun anyways)! Paintless paintball is a lot of fun and there is nos risk of ruining your favorite shirt!
 Your inner Spiderman is calling?
Climbing is harder than it seems. Some (myself included) will find that it's actually quite good exercise and that you don't need a red and blue suit to be a great climber. Just head to Altitude Gym. The Clip'n'climb section also has great challenges for grown-ups and their mini-selves.
How about a night of board games?
We all have an old game of Scrabble with missing letters, a game of Clue where the illustrations on the card scream another decade, or an obscure game whose set of rules is long gone and let's face it, you will hardly convince anyone to play with these. That's why Échec et malt is there. Order a pint from your favorite microbrewery and let your host entertain you with games. With over 500 in store, chances are you'll discover something new.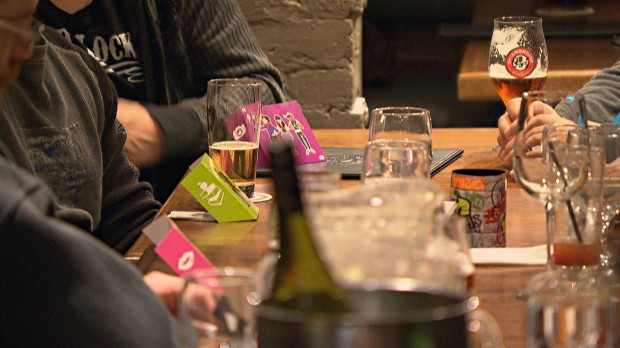 Epicurean, are we?
You know about Piz'za-za's awesome wood stove pizzas but have you seen their cellar? It's got tons of great bottles and to help you find your way through the wine list, they offer the Tournée des vignobles, a series of workshops to stimulate your inner oenophile. Cha Yi Tea House also has workshops to discover the subtleties of teas of all kinds. If chocolate is your thing, Miss Chocolat has workshops where you can pretend to be Juliette Binoche or Johnny Depp while you make your own truffles.
Hungry for culture?
The Outaouais has made a solid reputation for itself for its museums. 8 national museums on both sides of the river, art galleries, special exhibitions gallore... You're guaranteed to make discoveries!
This is only a small overview of what the region has to offer. This article could have been pages longer. You can always visit our website for more ideas. This is one of the consequences of living in such a rich region; there's too much to do, year round!