Suggestions for a « different » party
Published on December 11 2014
The Holidays are synonymous with parties. Parties with friends, with relatives, with colleagues, etc. But considering that our waists are bound to gain a few extra inches in the next few weeks and that we'll be enjoying calorie rich leftovers until the snow melts, going to a restaurant might lose a bit of its appeal. The Outaouais has many other options for an out of the ordinary celebration guaranteed to generate fun, happiness, and laughter at the expense of our loved ones. So hey! Put on your best wolf sweatshirt and head out for a not-so-serious night on the town!
Here goes.
Bowling!
Bowling. Whether your technique is flawless and you hit strike after strike, or you opt for the not as classy but nonetheless efficient « with both hands » way of doing, or even if you throw so hard your ball ends up in another lane (it happens), bowling is always fun. Especially when the place is blacklight-lit and disco balls hang from the ceilings (where white clothes for a greater effect). You'll find that at the mythical Salle Anik, where countless school or day camp ouitngs have taken place over the years, so that most people in the region have very strong memories associated with the place. With a cozy bar and pool tables, you could spend pretty much your whole evening there.
Quille-O-Drôme Galaxie in Aylmer is not to be overlooked, though. The animated sequences on the score screens alone are worth the detour. Here too you can choose from the big pins, the small ones, or the duck variety (where the pins have a rubber band around them to help increase your score, if I understood correctly). There's also a bar and an air-hockey table!!! Such a fun game, even though I'm terrible at it.
If you have above average feet like I do, do not despair. Both places keep stylish bowling shoes up to a size 15. Hurray for that.
Pool!
For pool enthusiasts, the Terminus is one of the most obvious options. It's the place where you'll find the most tables and where people flock to the bar later in the evening, making it a great meeting place. But Gréber Boulevard has the Bar billard le Huit, which has a lounge so the members of your group can make fool of themselves in private.
Oh and the Flix Billard in Aylmer has something the others don't : ping-pong tables on Friday and Saturday nights so you can unleash you inner Forrest Gump. But most taverns have pool tables so feel free to explore the ones in your neighbourhood and you're bound to find something!
Curling!
You know curling? The sport of which everybody makes fun because it looks easy? Not as easy as it looks! It's hard but so much fun, especially when a player hasn't mastered the art of sliding and falls flat on the ice. The Buckingham Curling Club rents ice surfaces where you and your friends can throw rocks, sweep like crazy, and take a plunge, all while amusing elites players on the other surfaces. Oh and don't forget to scram inaudible instructions to your sweeping friends for a true Olympic experience. Be sure to call ahead of time to make sure there are no tournaments and that you'll be able to play, though.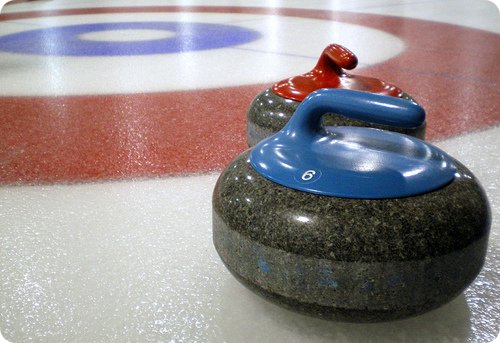 Karaoke!
Of course, a night amongst friends cannot be complete without karaoke. No joke. It's a must. No excuses such as « I sing terribly, I think I'll pass » will cut it. Heck no. You find yourself a song or we'll find one for you. Whether you're a junior Pavarotti or you sing like a wolverine on a hangover, it is mandatory to let yourself loose to at least one song. Bohemian Rhapsody doesn't count though because everybody present will be singing it together later on in the evening. You should see me performing Hound dog or Back in the USSR. I literally BECOME Elvis and McCartney! Well not really but the beer sure tastes good afterwards. Gatineau's la Galanterie (near a Patio Vidal for a midnight snack) and Pop-O-Bar are two great places where the party is guaranteed! Eddy Street is another destination for karaoke lovers with L'Original and la Brasserie de l'île, where I had many opportunities to make a fool of myself while trying to mimick Tom Jones. It was epic.
So, dear readers, I wish you the happiest of Christmas parties and remember that Operation Red Nose is there so you won't regret your evening even more.
For more ideas for the Holidays in the Outaouais, go to www.outaouaistourism.com!