The drinks of the Vieux-Hull
Published on August 13 2015
We go way back, Vieux-Hull and I. I visit it for happy hour, shows and events, for a good meal or for the inspiration it gives me for my art work. After all these years, it still manages to amaze me, partly because the bars and restaurants there don't take their clients for granted and, using imagination, they find ways to reinvent themselves and introduce new things on a regular basis. Some of them have developped drinks that you're not likely to find anywhere else, at least not in these necks of the wood, so next time you're in the area, try something new instead of ordering a dull vodka-cranberry or a gin and tonic (though some bars have a very unique twist on this classic). To help you get started, I've tried some for you.
Où Quoi Lounge Urbain
Où Quoi. Trashier than a traditionnal pub, yet classy. The place is small but holds events like nowhere else (I placed second in their Mario Kart 64 tournament, last winter!) and their drink menu is like nowhere else. They've used the services of a pro to create recipes and juggle with flavours and subtleties to build a strong, unique menu that changes with the seasons. Every week features a new drink and the quality of the ingredients guarantees your cocktail will taste a bit like heaven. I could go on and on and on but I'll stick to the Toboggan.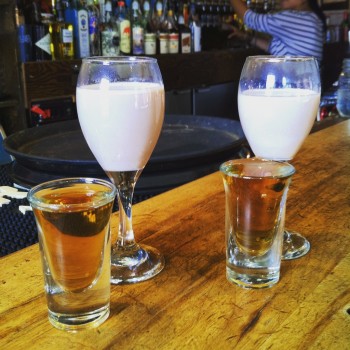 First of all, it's a shot so enjoy responsibly. Second of all, it's got hot chocolate so you might want to keep it for a cooler autumn or winter day but then again, it's your call! Third of all, it's delicious.  First step is a shot of whiskey (in this case Devil's Cut bourbon). Second step is to soften the effect of the whiskey with a smooth mixture of hot chocolate and irish cream (Carolan's, in this case). My oh my is comforting! If howe'ver you're in the mood for a light show, order Queues de casto or Fontaine Aubry. Pyrotechnic awesomeness right at your table!
Le 4. A happy hour favorite (especially on Thursdays), a great place to hang out with friends, a superb patio and not-too-shabby selection of beers and cocktails. Among those is the Surfer on acid, that no other local bar does. legend has it that a former bartender, Thierry, brought back the recipe after briefly working in a bar in Miami. Jägermeister, Malibu (coconut rhum), pineapple and cranberry juices shaken on ice give a very refreshing drink that can be enjoyed as a shot or a cocktail. I've introduced a few friends to it and now, everytime we meet we have one together. Beware, though; it drinks itself. Seul conseil : ça descend comme du jus alors faites attention! The 4 also makes great Manchesters (with port wine) that will convince even the staunchest critics.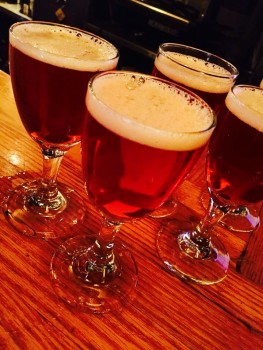 Bistro CoqLicorne
The CoqLicorne is not a bar but a restaurant that makes everything itself. they make their own ketchup and smoke their own bacon and trout so you can bet they're not going to create ordinary drinks. They've invented one aptly named La guerre des tuques (named after a Québec cinema classic) because pretty much everything in it is from Québec, except many oranges. In it is Ungava gin, cider, blueberries, a roasted marshmallow and even a fir tree branch! Sooooo easy to drink, even when the blueberries block you straw.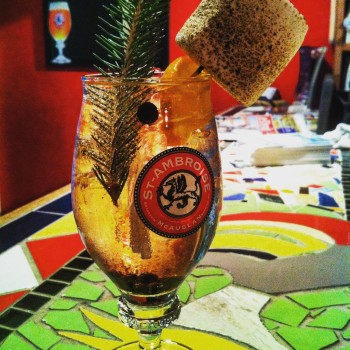 While you're there, you'll probably eat a bite. Why not chase your meal with the eponymous shot? A CoqLicorne makes an excellent trou normand (to make room for more) and it includes a bit of bacon. It's a winner!
The BDT does offer cocktails made with their own beers but I think it would be a sin to not mention The clock. 12 (small) glasses of local beer, presented in the order they're meant to be enjoyed, from the softest to the most robust. A menu tells you about each beer and the pages are already in the same order as the glasses. Enjoy!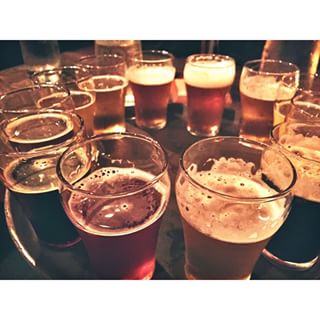 It's not really complicated. When you visit one of these businesses, dare to try something different! You'll be surprised! And remeber that if you dare a bit too much, local taxi companies will be happy to take you home. Don't forget to visit www.outaouaistourism.com for everything you need to have fun in the region!
Featured image:  Queues de castor at the Où Quoi. Photo: Tanya St-Jean