The Gatineau Loppet, even at -37
Published on November 24 2016
By Geneviève Bélisle
We can all agree that at this temperature, even a polar bear would stay inside. To me, it just added to the challenge that I had given to myself just a year before, day for day. The previous year, I spent the day at the Gatineau Loppet with three colleagues and Michel-Olivier, the event's General Manager, who gave us a tour of the installations. Little did I know that this day would kind of change my life. The very same day, I met healthy lifestyle promoter Pierre Lavoie and I decided to get back in shape to be a good role model for my two young boys. Just the spark I needed! Now 45 lbs lighter, I was at the 10 km starting line on a very, very cold day.
Preparation
Being a young professional, recently married mother of two young boys, you can appreciate how each second of my day is counted. On week-ends, I'd run away during the kids' nap time, like a wild animal finally out of its cage, put on my boots and skis and on the trails I was for the next two hours! It was the only time I had in my week to get ready. Cross-country skiing is very demanding on the body because every muscle (howe'ver small it may be) and your cardio are going at it. I have to tell you about the first thing that came to mind when I went to pick up my bib: I, at 30, was clearly a minority. The most represented age group? 50 and over!!! And everybody was wearing brand new, top notch gear. So I asked myself: "What am I doing here??? "
The Big Day!!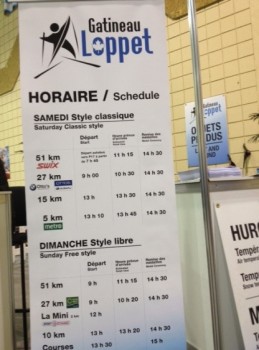 When I woke up that morning, I felt like was going to accomplish THE feat of which everyone dreams. "Woh, hold your horses, girl! You're doing the 10K!" Ok, my feet were back on the ground. A friend of mine did 160 km in two days the previous week-end during the Canadian Ski Marathon, thank you very much! But that challenge was his; mine was different but just as important to me. But I needed to calm down. So there I was by my window looking at the thermometer; I rubbed my eyes and looked again. "WHAT?", I yelled. It was -26 and the trees were shivering because of the cold and the wind was very strong. I felt like crying. The radio show's host didn't help when he added that it felt like -37 either. It was up to me to motivate myself; nobody was waiting for me over there. I felt so alone! No, I wasn't going to quit then, Mother Nature was not going to have the satisfaction of winning. No Ma'am! I took all my warmest clothes and stuffed them in my backpack. I'd see how the others were dressed when I got there.
On location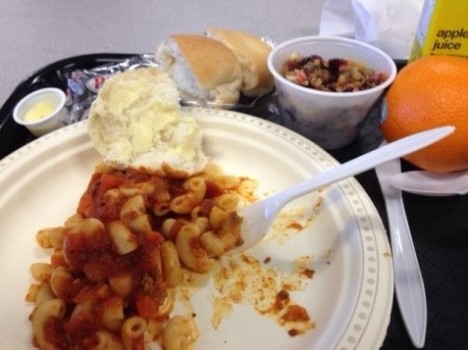 So there I was at École secondaire Mont-Bleu, where the waxing room, the cafeteria, a ski show, and the departure for most races were. There was electricity in the air! I saw organizers and volunteers working like bees and I learned that because of the extreme cold, the races had been shortened. My 10K became an 8.5K and the 51K, a 42. See? Nothing to write home about! I stood next to the door from which skiers were coming in or going out and heard several reminders to cover our faces. Many cases of frostbite had already been reported. Certain skiers (from the 42K, I presumed) had so much ice on their eyelashes that you couldn't see their eyes and many had put tape on their cheeks, nose, and chin. Would I have to do the same? I really didn't know what to do and still having an hour and a half to wait, it was out of the question for me to go outside right away. I decided to go eat my lunch (free when you showed your bib or 7$ if you were just a visitor). I was given a plateful of meat macaroni, lentil salad, juice, yogurt, a cookie and a small bun. The meal of a champion! I sat down and started discussing with a man who had just done the 27 km (reduced to 22). Originally from Gatineau but now residing in Québec City, he told me he'd been participating in the Gatineau Loppet for over 20 years and that according to him, Gatineau Park was one of the best parks in Canada. 200 km of very well groomed trails and many parking lots from which to access them, you don't see that very often! I suddenly felt very lucky to have this gem in my backyard. The man got up and wished me the best of luck. By listening to the conversations around me, I realized that many people were in the same situation as me: alone to do their race. Everyone was chatting with their neighbour, talking about their experience, the weather, cycling (skiers are usually avid cyclists in the summer). I was completely full with half of my plate still uneaten and I didn't have time to get up before a nice volunteer came to pick up my tray and my garbage. It was time for me to get ready and wax my skis.
At the starting line
4-5 layers of wax later, my scarf up to my eyes and my snowboarding goggles (I was kind of proud for having thought to bring them), there I was amongst hundreds of skiers like myself, waiting for the signal that would start the race. Around me, it seemed that most people had opted for skate skiing. There were like 10 of us going classic. I even wondered if I was in the right race. Looking at the other bibs, I found that no, I was indeed at the right place. 10 km, freestyle. The name said it all. Right next to me was a charming little old lady in a used red one-piece suit with skis from the 70s who looked as old as time itself. I was surprised to find myself having preconceived ideas about the fact that she was clearly going to be far, far behind everyone. Thirty seconds before the signal, it was dead silent, and the wind was humming a song reminding us that we were a bit crazy being there. Suddenly, the signal went off and everyone threw themselves on the trail. You'll never guess who passed by me like a speeding bullet: the charming little old lady in her red suit! I would never be able to catch up with her. At that premise moment, I promised to never again judge a book by its cover; impressions don't mean a thing. The skiers in skate mode were already way ahead and I found myself with a group of classic skiers. All was going well and I started to warm up so I stopped to remove goggles, mitts, glasses and hat and off I was again. The trail was perfect, in the middle of the forest, between a rocky cliff and a small valley, and I reminded myself to enjoy the moment. All was great under the sun! I started sweating all over and I felt that the sweat was freezing as I went, reminding me how cold it really was. Even tears were starting to freeze in the corner of my eyes, so I couldn't see very well. The trick was not to stop and finish this as quickly as possible. 1 km, 2 km, the more I went, the more the numbers went up. 4, 5, 6 km. I could feel my muscles getting heavier and all along the way I kept thinking "How do people manage the 51K???" Are they gods or something? One kilometre to go and I could feel a blister on my right foot. "Can't give up now, I'm almost there!" Besides, I could hear my name and encouragements from the speakers. The wind was blowing like crazy, I could see the finish line, the clock showed 1:12:26, go, go, go! One last push and yesssss! I made it! I felt like screaming but I held back because nobody I knew was there. A group of volunteers greeted me, put a medal around my neck, and even offered to help me remove my skis. Well I wasn't THAT tired! I went to the food station to find it almost empty because hundreds of skiers had gotten there before me. It was over and I was proud of myself! I went inside for the medal ceremony and listening to the people around me, I gathered that everyone had a treat planned for themselves when they got back home or at the hotel. For me, it was going to be a warm bath with a glass of wine.
Small challenges today, big changes tomorrow.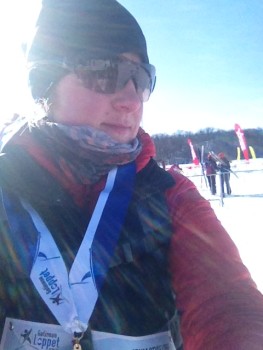 Here are the cross-country events for the upcoming winter:
Canadian Ski Marathon: February 10 to 12, 2017
Gatineau Loppet: February 17 to 19, 2017
Jack Rabbit Classic : March 11 2017
For everything ski related in the Outaouais, click here.