Reach new heights in Outaouais
Published on August 28 2015
It's time to get crazy and reach new heights in the Outaouais region! Let's pause for a sec, I can already imagine your facial expression while reading this first line, you're either looking at your computer screen with a corky smile or frowning while looking at your mobile. Don't worry. I'm talking about amazing activities to do above the ground. So get ready for a memorable time!
Tandem Skydive Jump
The first (and unfortunately only) time a jumped with the Go SkyDive team was 5 years ago, and I remember it like it was yesterday. Sitting in the plane, attached to the instructor, watching the buildings and trees on the ground shrink gradually until they disappeared. As we reached 13,500 feet, I had butterflies in my stomach and was overwhelmed with excitement.
And then, I experienced the ultimate sensation of freefall at over 200 km/h for about a minute…just imagine! Once the adrenaline rush passed, I was comfortably floating among the clouds, taken away by the wonderful landscape of the National Capital's Region and the Ottawa River, while the parachute above me created just enough shade from the blazing sun.
Breathtaking! That's when I thought to myself « This would be perfect if I was surrounded by the Fall rhapsody created with all those colourful trees in October. Don't miss your chance to enjoy the unique setting while coming down from « Cloud Nine » in tandem. At this height and with this liberating feeling, it surely felt like Cloud Nine!
Bungee Jumping & RipRide
Another turning point in my part time stuntman career: a visit to Great Canadian Bungee in Wakefield, where I unquestionably surpassed myself. To get into the swing of things, I first slid down the RipRide zipline which consists of a cable slide that crosses the lake from one end to the other. The 1,015 feet cable starts at a spine-chilling 200 feet and propels you above the crystal clear waters. The thrill becomes more intense as you reach a top speed of 80-100 km/hr and are now 150 ft. above the water. Even Superman would have had shivers!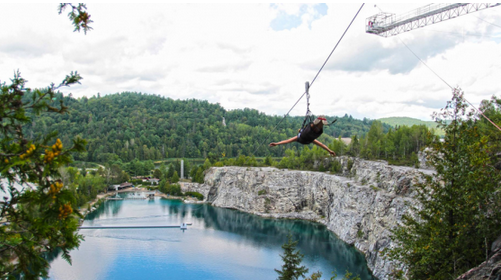 Then I got a surge of energy to go bungee jumping from the highest tower in North America. The platform sits at 200 ft. high in the middle of a limestone quarry and the first rebound is equivalent to jumping at 160 ft. (which is higher than any bungee site in Canada and the United States States). It's like a 2 for 1!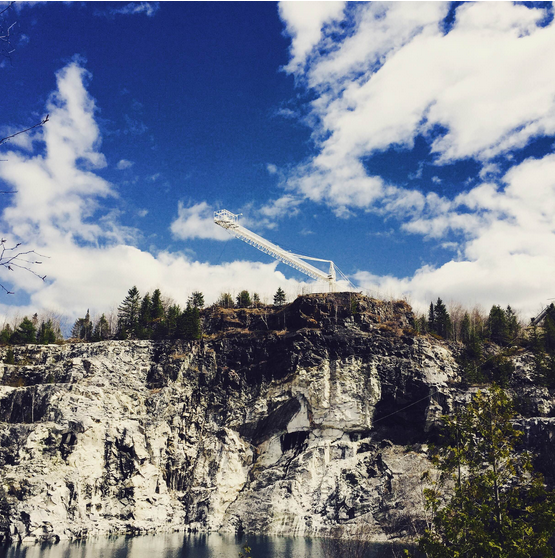 So if you're looking for a thrilling activity to do, this is a serious contender.
Flying above the region in a hot air balloon
Wow! That's the first thing that comes to mind when I reflect on the hot air balloon ride that I did last weekend.
I've been dreaming of flying over the region since I was 10, specifically since I climb into a hot air balloon attached to the ground at the Gatineau Hot Air Balloon Festival. Honestly, the ride was as magical as I imagined it would be 17 years ago.  It's almost impossible to describe how you feel when you're on board. You just feel so serein while looking at the extraordinary view. Since a picture is worth a thousand words, here are a few shots that I took 400 feet above the ground. And trust me, it's waaaaaayyyy better when you see it in person.
Although the duration of the flight depends on the speed and trajectory of the wind, every second of the ride is worth it!
The 28th edition of the Gatineau Hot Air Balloon Festival begins on September 3rd. This is a great opportunity to plan your hot air balloon ride or at least admire the impressive lift-offs. But did you know that you can enjoy a balloon ride all-year long? It's never too late for a ride!
Spending a crazy weekend in Outaouais
It's time to plan a lofty Labour Day weekend in Outaouais (a long weekend to boot!). Fun and excitement guaranteed. Why? Because it's the fourth and last edition of this summer's Crazy Weekends.
Climb over 45 feet high in a former church, indulge your adventurous spirit with a treetop tour featuring suspended bridges, jump from a 12-metre tower and land on an air bag, sip a drink on an outdoor patio under dozens of colourful umbrellas, float your cares away in North America's largest saltwater pool, and take stunning photos on Gatineau Park's lookouts.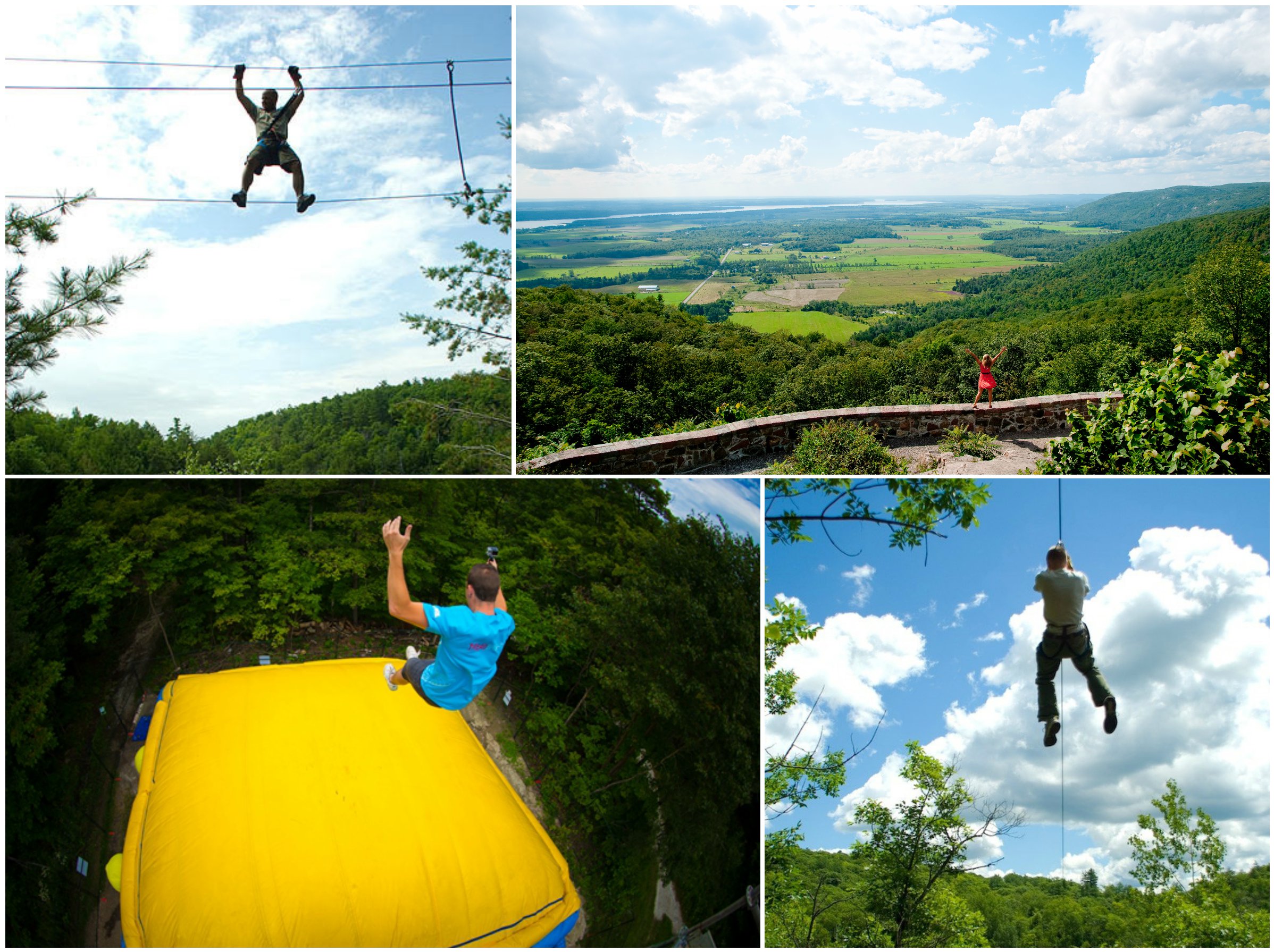 If that doesn't inspire you, I'm not sure what will. So, I'll see you soon at one of these #outaouaisfun spots?
For more thrilling activities, visit the Outaouais Tourism website. And follow us on Twitter, Facebook and Instagram … remember our hashtag, #outaouaisfun.