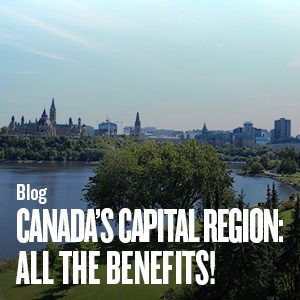 Canada's Capital Region: All the benefits!
Known for its exceptional quality of life, Canada's Capital Region tops the MoneySense list of Canada's Best Places to Live.
Encompassing the cities of Ottawa and Gatineau as well as 11 Ontario and Quebec municipalities, Canada's Capital Region is a national focal point. The two main cities form Canada's fourth largest metropolitan area, after Toronto, Montreal and Vancouver.
A gateway to Quebec, Gatineau is a thriving community that ranked 10th among the "Top 10 Mid-Sized American Cities of the Future 2013–14" in the "Business Friendliness" category. Its economic potential, human resources, competitive costs and infrastructure make it a dynamic city and a prime business destination.
The "business friendliness" quality is evident on both sides of the river. In Gatineau, for instance, the conference centre and major hotels are conveniently located in the downtown core. Featuring dozens of charming restaurants and microbreweries, a culture trail, and the Canadian Museum of History (Canada's most visited museum), among other attractions, Gatineau offers an outstanding visitor experience just minutes from Ottawa.
By bicycle or on foot, you can explore Gatineau and Ottawa via more than 600 km of recreational pathways—the most extensive trail network in Canada! The trails will take you from downtown Ottawa to Gatineau Park in just a few minutes. And did we mention the impressive concentration of golf courses? There are 150 courses in a 100 km radius!
The number and diversity of attractions and their proximity to each other make Canada's Capital Region an ideal destination for event planners. There's truly something for everyone, from nature lovers to foodies, golfers to culture and history buffs.
Christmas parties so much fun in the Outaouais
In Gatineau, any time is party time, especially over the holidays.
Book your next Christmas party in the Outaouais! In downtown Gatineau, hotel meeting rooms double as dance halls once evening comes. And with your hotel room just steps away, you don't have to worry about drinking and driving.
The region also boasts several golf clubs with beautiful reception rooms, not to mention a host of welcoming bars and restaurants. Enjoy a pint at the Chelsea Pub or a glass of champagne at the Hilton Lac-Leamy—whatever your tipple, your office party in the Outaouais is sure to be a hit.
Something new at Meech Lake
In the heart of Gatineau Park, overlooking Meech Lake, sits a stately, historic, Neo-Queen Anne-style manor with a storied past. Built in 1930 for businessman Ambrose O'Brien, founder of the National Hockey Association (the forerunner of the NHL) and a founding owner of the Montreal Canadiens, O'Brien House later served as a government conference centre alongside its neighbour, the Wilson House, home of the 1987 Meech Lake Accord. The building has been carefully restored and is being converted into a boutique hotel featuring a dozen luxury rooms and a private meeting space ideal for team retreats, strategic planning sessions and executive committee meetings. O'Brien House is scheduled to reopen under a new name by Christmas 2017.