Catching the holiday spirit in Outaouais
November 19 2015
Throughout November and December, the Outaouais region is packed with events and activities to put young and old alike in a festive mood. Laugh at the cold and Old Man Winter as you celebrate the magic of the holiday season!
Lights … music … Christmas!
Festival of Lights
On December 6–7, 13, and 26–29, you're invited to discover Coulonge Falls Park in all its winter glory at the Festival of Lights, where over 10,000 twinkling lights and dazzling special effects illuminate the path to the majestic waterfall. Take advantage of the opportunity to find some one-of-a-kind Christmas presents at the craft market, and gather round the bonfire to warm up—or roast a few marshmallows!
Christmas Lights Across Canada
Over the holidays, come and admire the magical landscape of Christmas Lights Across Canada, when more than 300,000 multicoloured Christmas lights brighten the winter nights throughout the National Capital Region. On December 3 at 7 p.m., join the crowd on Parliament Hill for the 30th annual illumination ceremony! The dazzling display continues nightly until January 7.

Lumières de Noel du Canada. Patrimoine Canadien
Setting the holiday mood
Preserves make great gifts!
On Thursday, November 26, the Canada Agriculture and Food Museum presents Can You Can?, a workshop on giving preserves as gifts. Join chef Emerie Brine from Bernardin as he demonstrates how easy it is to preserve fall harvests and turn them into great gift ideas.
It all starts with a tree!
Once again this year, elves, fairies, and the magic tree will make their appearance at Les Fruits de la terre! On the weekends of November 29–30 and December 6–7 and 13–14, from 10 a.m. to 4 p.m., you and your family are invited to visit the farm and choose your own Christmas tree. A short wagon ride takes you out to the tree lot, and you'll be given a flag to mark the perfect specimen. Once you've found it, one of our elves will help you cut your tree, bring it back to the main building and wrap it up for you. You'll also enjoy our crackling wood fire, home-made goodies, and Christmas decorations. The only thing left to do is trim your tree to the sound of Christmas music!
Celebrate the holidays in the world's largest log building!
The Fairmont Le Château Montebello is the place to go for a unique and unforgettable holiday getaway for the whole family. The Country Christmas Package features dancing and entertainment, a Yule log and hot chocolate served on arrival, and even a visit from Santa Claus—plus the hotel's usual myriad winter diversions, including sleigh rides, curling, and skating. Make it a Christmas to remember!
Meet Santa's reindeer
From December 20 to January 4, along Parc Oméga's hiking and snowshoe trails, you can meet two of Santa's reindeer! Play in the snow, enjoy a tasty hot chocolate, and warm up by the bonfire near the teepee and trading post. No snowshoes? No problem—you can rent them when you get there!
Our Christmas markets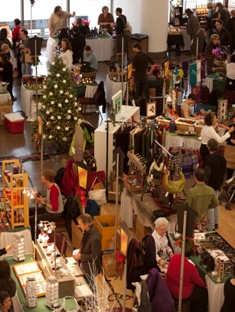 Totem poles and Christmas treats
From November 27 to 30, start (or finish!) your Christmas shopping at the Canadian Museum of History's Christmas Market. This year's Market will be held in the magnificent Grand Hall, and more than 80 exhibitors will be showcasing specialty products from the Outaouais region. Admission to the Market is free, and it's open Thursday from 11 a.m. to 8 p.m. and Friday through Sunday from 9:30 a.m. to 5 p.m. While you're at the museum, take time to visit the exhibition 1867, also opening November 27.
Christmas gifts straight from the … art!
If you're looking for one-of-a-kind gifts made by Outaouais artists and artisans, be sure to visit the Christmas boutique hosted by the Art de l'Ordinaire artists' collective in Cantley! The boutique is open November 21–23 and features unique gift items created by local painters, sculptors, woodworkers and many more.
Craft fair!
On November 29, discover the Christmas craft fair at the Presbytère de Blue Sea, a former rectory turned cultural centre and art gallery whose mission is to support and promote local artists. You're sure to find the perfect hand-crafted gift!
An old-fashioned Christmas market
On December 6,  visit an old-fashioned Christmas market on the grounds of the magnificent George Bryson Heritage House. Christmas carols, hot chocolate and the warm and welcoming setting are sure to put you in the holiday mood. There's fun for the whole family, including pony rides and a visit from Santa Claus! And while you're there, why not pick up a little something for that special someone on your Christmas list?
Where's Santa?
As we all know, this is Santa's busiest time of year, but don't worry: he hasn't forgotten us! The jolly old elf will arrive in the Outaouais region at 7 p.m. on November 28, just in time for the Gatineau Santa Claus Parade in the Aylmer sector. This year, for the first time, the parade is part of a three-day mini-festival (November 28–30) packed with family activities, plus a Nutcracker-themed outdoor Christmas market featuring local artisans and their creative wares.
If you miss the parade, you can catch up with Santa at the Galeries de Hull or Les Promenades Gatineau! On December 24, from 9 am to 1:30 pm, he will be at Place du Centre.
Château Montebello. Hôtels Fairmont