Chelsea, coffee, and cute cats
October 29 2015
A few weeks ago, I asked my girlfriend "Hey do you want to go see cats and have a cup of coffee?" Her puzzled look led me to explain that there was the new Siberian Cat Café in Chelsea, that they were the ones who made election signs with their cats on them, that it looked like a lot of fun, and that I was very very excited. You see, I discovered in the last for years that I was a cat person thanks to Sam, a cat I inherited, God rest his soul.
So, to Chelsea we went. From outside, the place was very nice. The patio was inviting, the weather less so, so we stayed inside. But it's when we passed by a window that it happened. BOOM! A big ball of cuteness hit me like the windshield of an eighteen-wheeler would hit a bug on the highway. I saw a cat. Aaaaaaaaawwwwwwww!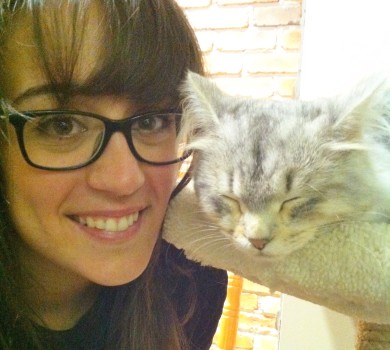 The first section is the one with the counter where you order and pay and where they prepared your drinks or food. No alcohol but their selection of coffees and teas is impressive. They also have shelves showcasing regional delight such as products from Miss Chocolat, CHA YI Tea House, Jack's Tonique, and many others. On the wall over the counter are pictures of the residents, located in the next room (that's always closed 'cause you wouldn't want a cat to sneak into the kitchen and find a piece of grilled cheese sandwich).
Wow. The moment you step into The Cat Salon, you lose a fiew IQ points. You start uttering meaningless sounds, in a pitch that's a few octaves hhigher than usual. The place is pretty busy (including clients who know the cats by name) and everybody has one thing in common : we all spend waaaayyyy more time looking at the cats than minfding our drinks, excellent as they may be. To see the kitties running and jumping in the impressive play structures, sleeping on cushions, crashing on a couch, drinking at their tiny fountain in the corner makes everyone overwhelmed with cuteness.
Yup. I probably looked like an idiot. But seeing my girlfriend surrounded by a bunch of cats, eyes wide open, jumping at (almost) the right moment to catch the swirling key chain over their heads, I tell myself that I'd be willing to come back and look like an idiot anytime. Who knows? I might develop an enduring friendship with one of the cats and one day, I'd be reading to him, latté in hand, as he purrs on my lap...
Oh yeah. Next time, I'm bringing a laser pointer. It's going to be epic.