"Fur"ther adventures in yoga
March 17 2016
If I say "yoga," I'm pretty sure you'll understand what I'm talking about. But if I say "cat yoga," what picture comes to your mind?
No, it's not yoga camp for your cats, nor a pet-parent activity: it's a unique and fun experience for humans that's gaining popularity around the world. In the Outaouais, Corps-Esprit yoga studio and the Siberian Cat Café have teamed up to offer a very special kind of yoga, and it's open to everyone from novices to yogis!
One fine Saturday morning in February, I visited the Siberian Cat Café to find out what it was all about.
I got a warm welcome at the big yellow house on the Old Chelsea Road. Once I'd read the safety rules for the cats' well-being, I was ready to enter the Cat Salon and enjoy a nice latte while I waited for the yoga class to start. Konstantin, the little caramel-coloured kitten, immediately hopped up on my lap to demand the first pats of the day.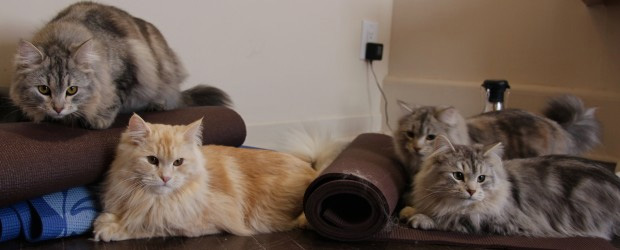 The kittens impatiently await the beginning of the yoga session.
A relaxing morning
That Saturday, a dozen women of all ages had gathered for an hour of "me time" with the Cat Café's seven Siberian cats and Anne-Renée, a yoga instructor at Corps-Esprit. Some had never tried yoga before, while others were regulars looking for a different experience.
Everyone was very friendly and cheerful. Of course, it's hard to be serious when a cat trots under you as you're doing a "downward dog," or scampers away with one of your socks. You can't help smiling or even laughing out loud!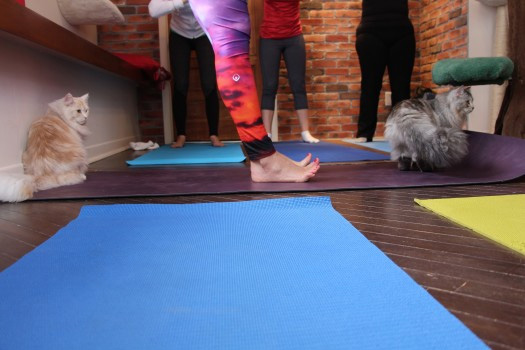 The seven adorable fluffballs, especially the four mischievous kittens under a year old, set everyone at ease in minutes. It's no wonder the ambiance was so relaxed, enjoyable and zen.
(Tip for those with less endurance: Take a break whenever you like—just say one of the cats needed to be petted.)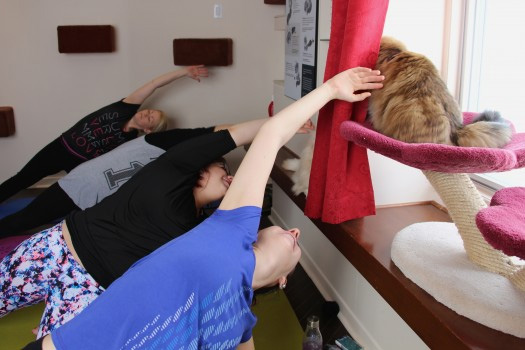 The aim of this particular practice is to imitate the cats' curiosity by trying out poses that may at first seem challenging, and listening to the signals of comfort and discomfort your body sends you. Cats are particularly good at stretches!

Does this sound like something you'd like to try? The next two cat yoga sessions at the Siberian Cat Café will be held Saturday, April 16 at 9 a.m. and 10 a.m. Book your spot now!
The sessions are open to both women and men; it was just a coincidence that the session I attended was women only. Gentlemen, time to consider getting out of your comfort zone!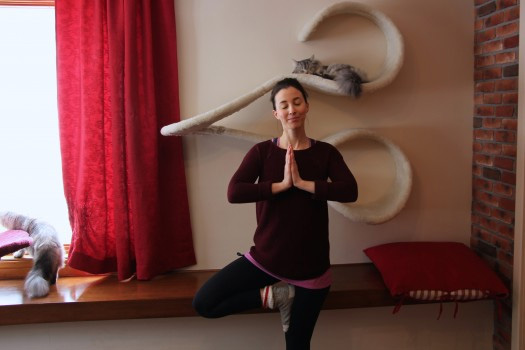 Namaste.