Training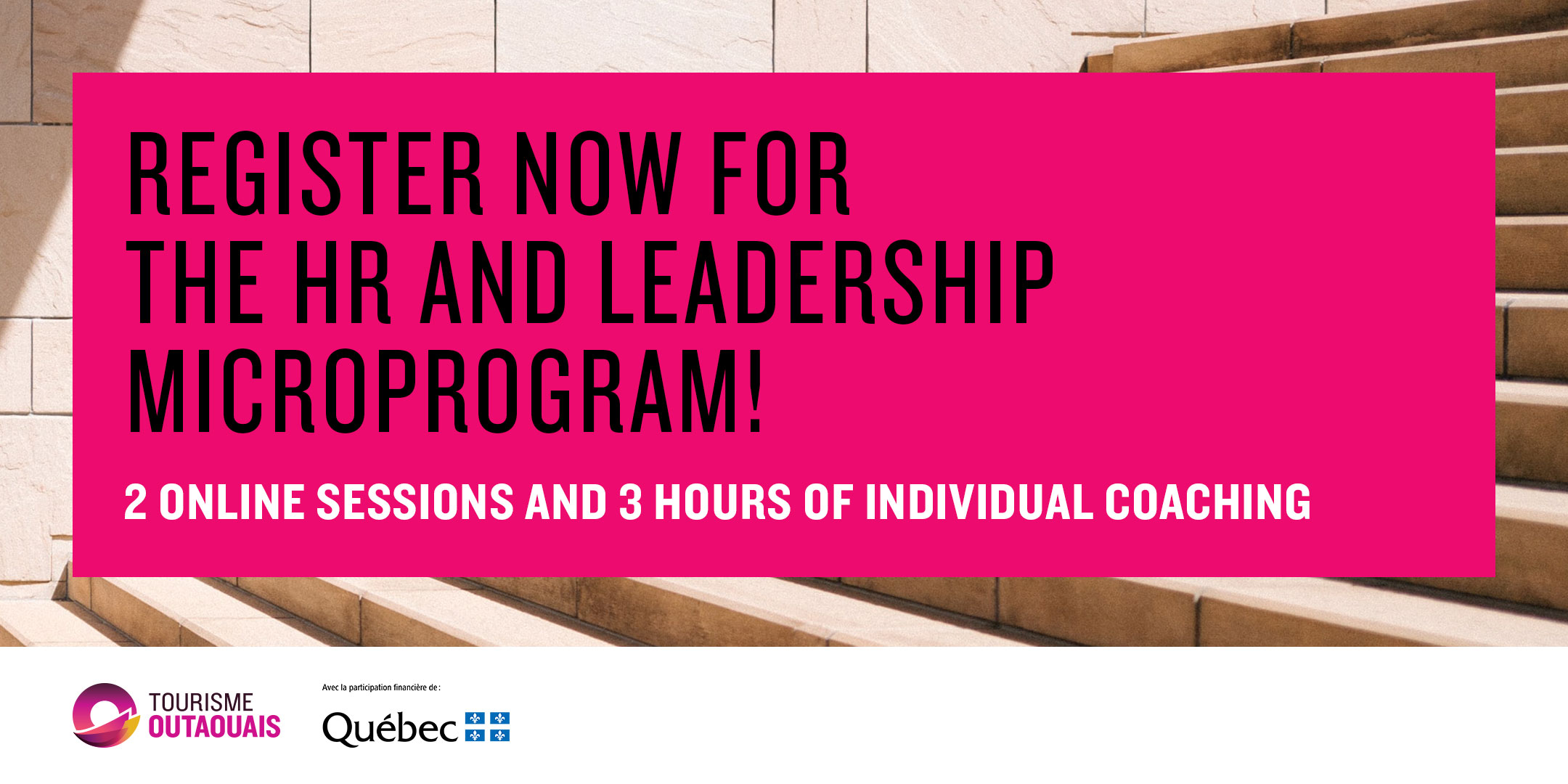 The HR and Leadership Microprogram will take place from December 15 to February 28. It has been created to address the needs of tourism businesses, regardless of the size of your business.
Take advantage of this microprogram, which includes 4 hours of training and 3 hours of coaching, to develop your skills with professional trainers and coaches. Act now! Your cost is $ 65, for a program valued at $ 660, thanks to the financial participation of the Gouvernement du Québec.
Online training
Team Management Fundamentals
Roles and challenges to manage a team
December 15, from 9 to 11 am
How to Improve Loyalty
Give them reasons to stay!
January 15, from 9 to 11 am
Hurry up, spaces are limited! Please submit your registration as soon as possible.
Questions?
Please contact Stéphanie at strottier@tourisme-outaouais.ca if you have any questions.
Microprogramme de formation en RH et en leadership
Please note that this training is offered in French only.
Inscrivez-vous dès maintenant au microprogramme en RH et en leadership qui comprend 10 heures de formation en ligne et 3 heures de coaching ! Les formations ont été conçues pour répondre aux besoins des entrepreneurs et des gestionnaires d'équipe.
Profitez de l'occasion pour développer de nouvelles connaissances avec des professionnels chevronnés de l'École des entrepreneurs du Québec – Campus de l'Outaouais, et ce, à un tarif réduit. Cette initiative de Tourisme Outaouais est possible grâce à la participation financière du gouvernement du Québec.
Coût/participant : 95 $ (valeur réelle de près de 690 $).
Formations en ligne
Les participants devront compléter au minimum trois formations.
Suis-je un bon leader? Leadership situationnel et meilleures pratiques
Gestion du temps, des priorités et du stress
Courage managérial (capacité à faire face à des situations difficiles de gestion)
Savoir-être au service du savoir-faire
Facteurs clés pour assurer une saine gestion d'équipe à distance
Formateurs
Susana Diaz, CRHA
Karine Théoret
Thierry Phitoussi, MSc, MBA, Adm.A
Les formations et le coaching se terminent le 28 février 2021.
Des questions ?
Communiquez avec Stéphanie au strottier@tourisme-outaouais.ca pour toutes questions.