10 super patios in the Outaouais!
Published on May 21 2015
After a long morning day at the office, what better than enjoying a cold beer/sangria/fruity little umbrella-sporting cocktail on a sunny patio? Not much, honestly. Let us rejoice, for the Outaouais is full of such patios! Here is short list of these #outaouaisfun places.
In Gatineau
In Gatineau, the words "patio" and  "Aux 4 jeudis" are almost synonymous. Vast and sunny, it has its own two bars and a retractable roof in case the weather isn't on your side. It is THE place for Happy Hour and to spend a night out with friends for many locals, young and old. Monday night is almost Outdoor Movie night, with a film projected on the wall of the neighbouring restaurant.
Very close to there, the Brasseurs du temps have settled in a heritage-rich building. The site that once was the first brewery in Hull became a pumping station, then a museum, and then a brewery again. The place breathes heritage and that's precisely its charm. Their patio is a little trip through time, specially if you order "the clock".
Let's go west now, shall we? In Aylmer, one will find Québec's largest beer menu. Last time we checked, l'Autre Œil had close to 600 different kinds and that number probably went up since then. Located on superb Principale Street in an ancestral brick house, their patio enevn has a fireplace for these nights-around-a-campfire-at-the-cottage kind of feel.
If you keep on going along that same street, you'll end up at the Marina d'Aylmer. Here, you can daydream that one of the sails boats at the docks is yours while watching the majestic Ottawa River. If you happen to be there at sunset, you may find yourself shedding a tear or two of pure joy. And with the bike path passing right by the patio, it's the perfect spot to take a break after (or during) a long ride.
Jacques-Cartier Street may be undergoing a lot of roadwork but it is still a beautiful destination. Right where the Gatineau River meets the Outaouais, you'll find the Sterling, one of Canada's top restaurants. With a menu like their's, it's a perfect spot to bring your loved one or that crush you want to impress.

In the Pontiac
Esprit rafting is a whitewater rafting business (duh!) but also a youth hostel. Located in Davidson on a little peninsula on the Ottawa, it is also an awesome place for the sunset-loving crowd. Surrounded by nature with a beautiful beach, it has a stone oven in which mouthwatering pizzas are baked and is decorated by flags from all the countries where the staff has rafted. You can even spent a night at the hostel or set up your tent at little cost, should you suddenly not feel like going back home.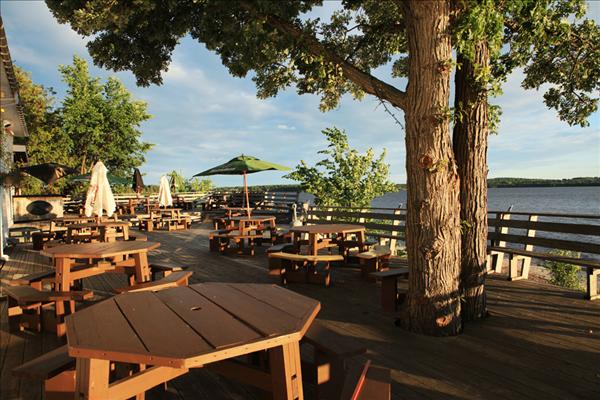 In the Vallée-de-la-Gatineau
Are you familiar with Village Majopial? No? Quick make reservations at l'Huile d'olive and ask for a table on the patio. Not only is the food great but their wine cellar (that you can visit, if you want to) is quite impressive. You also get a view like nowhere else on Trente-et-un-milles lake and there's a dock just by the lake where you can rent a canoe or kayak before rewarding yourself with a cold one.
In the Collines-de-l'Outaouais
Are you looking for a family-friendly patio? Look no further because Chelsea Pub  is the place for you! The patio almost surrounds the heritage building and a section was transformed into a playground for the kids. Chelsea is a lively little town and Chelsea Pub is the best place to catch its beat.
About fifteen minutes north of there in the town of Wakefield, you will find the Wakefield Mill. Surrounded by Gatineau Park, the inn was built on the remnants of the old mill that was once powered by the neighbouring MacLaren falls. The patio is right above these falls and wether you're there to enjoy a great meal or have a drink, let the purring of the water and the wind in the trees take you somewhere far, far from civilisation.
In the Petite-Nation la Lièvre
Fairmont le Château Montebello needs no introduction but have you ever taken the time to sit behind it, on the patio overlooking the Ottawa River? If yes, you know whart I'm talking about. If not, go go go! The hotel's rustic charms, superb flower beds and the giant barbecue they have in summer form a perfect combination to feel like royalty visiting its subjects in the Outaouais. But don't let that inflate your ego too much, please.
You might say that I've missed a few great ones and I acknowledge that. This is why I'm asking you to tell me what YOUR favorite patio in the Outaouais is. Who knows? If you invite me, I might just talk about it in a future article. Until then, we wish you a great #outaouaisfun summer and to find more fun places to discover head to www.outaouaistourism.com!